First 'American Horror Story' S7 Monster Is a Demon Republican
Still waiting on the demon Democrat.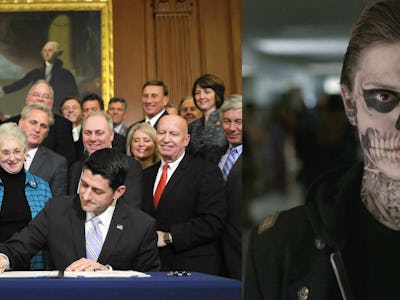 Chicago Tribune, FX
Ryan Murphy, co-creator of American Horror Story, is known for being cryptic about the show's upcoming seasons, but he's being surprisingly forthright this time around. He announced back in February that Season 7's theme would be the "2016 Election," and, since then, has been slowly leaking one detail after another. The latest reveal is a first look at one of Season 7's monsters.
"American Horror Story Season 7 tease," Murphy's caption read under a new Instagram post on Friday. The photo is a drawing of a grinning, red-lipped elephant-man with soulless black eyes and an alarming number of teeth. It's worth noting that this elephant demon-thing looks amazingly similar to Season 4's Freak Show character, Twisty the Clown.
It's also worth noting that the Republican Party's official mascot and insignia is an elephant. Since Season 7 will have an election theme, it's only fair to assume this demon will be a stand-in for the Republican Party.
Now, the question turns to what the Democratic Party's donkey demon will look like.
American Horror Story Season 7 is not yet attached to a release date but is expected sometime in 2017.