'Attack on Titan' Loses Voice Actor for Major Character
And it just might come at the worst time.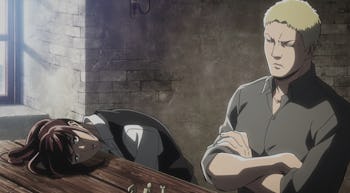 'Attack on Titan'
The prominent Japanese voice actor who plays Reiner in Attack on Titan, Yoshimasa Hosoya, announced a sudden hiatus from voice acting recently at the recommendation of a doctor, citing ongoing health concerns regarding overuse of his throat. Though Hosoya said, via his personal website, that he expects to return to work by the end of the year, that could mean up to eight months without the original voice of Reiner Braun, a prominent member of the 104th Training Corps.
However, fans shouldn't need to worry about a delay on Attack on Titan's second season. Episode 6, "Warrior," will round out the first half of the season this Saturday, and Season 2 is only slated to last six more episodes. Though it's unclear how Hosoya's hiatus might impact the latter half of the season, it seems likely that production on the main VA recordings has been completed for all the remaining episodes already. So, Hosoya should already be done providing Reiner's lines for Season 2 in its entirety — or at least pretty close to it. But, there's no telling how this might impact the inevitable Season 3.
Reiner was the focus of Season 2's fourth episode, "Soldier," and if the plot of the Attack on Titan manga is any indication, then (spoilers ahead) Reiner's role in the series is going to change drastically within the next few episodes.
Reiner's already a big shot. He's second in talent only to Mikasa out of everyone in the 104th (as demonstrated above), but the show is also slated to reveal that he is, in fact, the Armored Titan.
You can watch the simulcast of Attack on Titan on Funimation and Crunchyroll at 10:30 a.m. Eastern on Saturday or on Hulu at 11:00 a.m. Eastern.