Finn Rumored to Ride a Space Horse in 'The Last Jedi'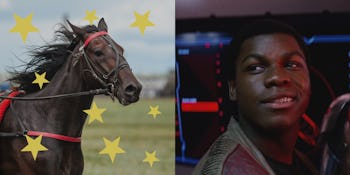 Lucasfilm, Pixabay
Finn and his new friend Rose might be horsing around in a galaxy far, far away soon enough. The newest rumor running the track for Star Wars: The Last Jedi is that Finn (John Boyega) and newcomer Rose (Kelly Marie Tran) will steal a racehorse-esque creature on the rumored gambling planet of Canto Bight.
Popular fan theory website Making Star Wars published the rumor on Tuesday, furthering the legend of the gambling planet that the site originally "reported" was named Canto Bight. According to "a friend" who was supposedly on set for The Last Jedi in Dubrovnik, Croatia, Finn and Rose get themselves into some trouble while on Canto Bight. They're on the run, "chased by men in 'luxury speeders' and the Star Wars equivalent of tuxedos or formal wear."
The post goes on to detail that Finn and Rose run into a stable of sorts filled with these space race horses (called "falthier"), jockeys, and an alien stable hand. Finn sweet talks the stable hand, and he and Rose jump onto one of the space horses before racing off.
"The head of the horse is sort of like a cross between a Tauntaun and [sic] the luck dragon from The Neverending Story," the post says, which would result in something more similar to a weird dog than a horse.
Even if this isn't true, the thought of Finn trying (and failing) to ride a horse is really funny.
Star Wars: The Last Jedi premieres in theaters December 15.