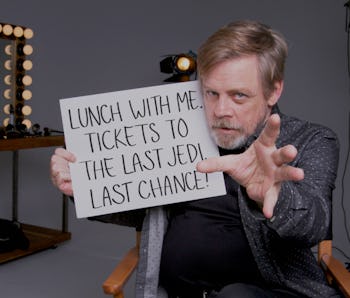 Entertainment
Luke Skywalker Offers Jedi Training IRL Over Lunch
Omaze
If you can't be trained in the ways of the Force, having lunch in real life with Mark Hamill is easily the next best thing. Assuming, of course, Hamill doesn't wear a Darth Vader mask the entire time and lure you to the Dark side.
On Wednesday, the charity group Omaze released their latest Star Wars-themed prank. After John Boyega photobombed fans at Star Wars Celebration in Orlando, Mark Hamill has now taken to impersonating a Darth Vader in a new video. Hamill did something similar during the Omaze promotions for The Force Awakens when he dressed as a stormtrooper and messed with fans by pulling off his helmet. This time, fans reenacted the iconic "I am your father" scene from The Empire Strikes Back complete with the infamous Luke Skywalker "NOOOOOO!!!" The best part of this video is easily when Mark Hamill dons a cheap plastic Vader mask to do his version of Vader saying, "Obi-Wan never told you what happened to your father." Part of the reason this kind of thing always works with Mark Hamill is because he truly is one of the fans.
Watch the video below. Details on the Omaze Star Wars: Force for Change prizes are on their website.
Star Wars: The Last Jedi opens on December 15, 2017.