14 Stunning Images of Apple Dubai Mall
It's a "celebration of the sun.'
by Monica Hunter-Hart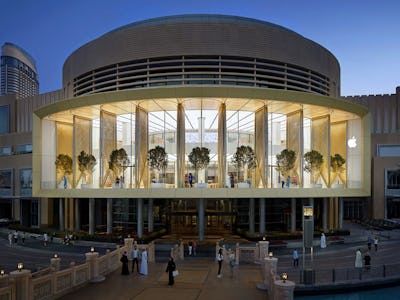 Apple
Apple's 495th store in the world opened last week in Dubai, and its architecture is just glorious and hypermodern enough to fit in the UAE's capital city. Designed by the British architecture firm Foster + Partners, the new "Apple Dubai Mall" employs workers who collectively speak 45 languages, making it "truly an international store," said Apple CEO Tim Cook on Tuesday's Q2 2017 earnings call.
The store has two floors, a long terrace, and 18 motorized solar wings made of carbon fiber. It's connected to the famous Dubai Mall and overlooks both The Dubai Fountain, the tallest performing fountain in the world, and Burj Khalifa, the tallest building in the world. The terrace provides a great view of these stunning sites, as well as places to sit and trees that mechanically rotate to receive even sun exposure.
A press release described the design as a "celebration of the sun," and explained that the wings are modeled after Mashrabiya, which are bay windows with carved wood latticework that've been a part of traditional Arabic architecture since medieval times.
"Reinterpreting the traditional Arabic Mashrabiya, innovative, 'Solar Wings' gently shade the outside terrace during the day and open majestically during the evening to reveal the 'best seat in the house' with a breath-taking view of the waterside promenade and fountains. With their movement path inspired by a falcon spreading its wings, the 'Solar Wings' are in itself a theatrical experience — an integrated vision of kinetic art and engineering."
Here are some photos of the store:
Foster + Partners also released a sped-up video of the building's solar wings opening and closing.
Here's to another futuristic addition to dazzling Dubai.