What Is "Zelyonka," the Russian Green Dye Weapon of Choice?
The dye has had a longer history as an antiseptic.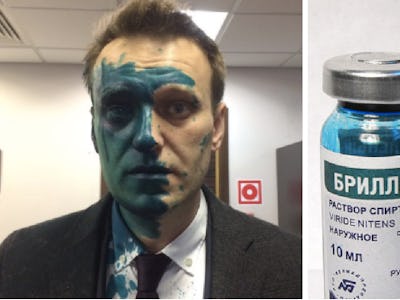 Wikipedia Commons/Twitter
On Thursday Russian opposition leader Alexei Navalny had brilliant green dye thrown into his face, staining his skin and dousing his right eye. It was the second time in the past two months that the Vladimir Putin critic and leader of the Anti-Corruption Foundation has been sprayed with this dye, known in Russia as zelyonka, an experience that he tweeted "looks funny but … hurts like hell."
The liquid has become a recurring tool used by pro-government activists against critics of the Kremlin, in part because it's considered to be nontoxic unless ingested. According to Radio Free Europe, the non-toxicity creates a safety net for the attackers in case they are caught. But in the case of Navalny, the dye may have been mixed with something else. The Moscow Times reported Monday that Navalny has been diagnosed with a "chemical burn in his right eye," something that zelyonka presumably could not do on its own.
Having zelyonka splashed on you, added chemicals or not, is no picnic because of the stain that it leaves. Zelyonka is a diluted form of "brilliant green", a triarylmethane dye. These are dyes that are intensely colored, produced industrially, but stem from organic compounds that contain the colorless solid triphenyl methane.
Zelyonka became popularized as an inexpensive antiseptic in the 1900s. Doctors at the time applied it to wounds and commended the dye for its "extraordinary results" in increasing the comfort of patients, despite "of occasional stained hands and clothes." Today it is still commonly found in Russian homes and used as a go-to antiseptic for scrapes and cuts. As an antimicrobial agent, it's demonstrated to be effective in preventing the development of infections — maybe it's not quite "the best herpes killer" like it's sold on Ebay, but it'll make sure a scab doesn't turn into a bigger issue.
It's been demonstrated to be an effective way of turning anti-Putin critics green as well. Just in the past week Radio Free Europe journalist Galina Sidorova and political campaigner Natalia Fedorova have also been attacked with this dye.