Ed Sheeran Will Serenade Arya Stark on 'Game of Thrones'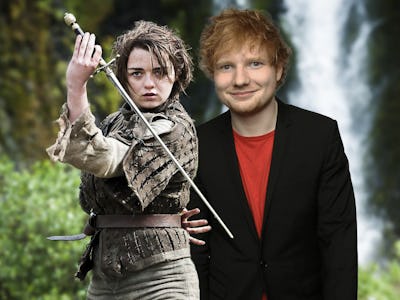 HBO, Getty Images
He's no Rhaegar Targaryen on the streets of King's Landing, but it seems Arya Stark will have a run-in with a famous singer from outside Westeros in the seventh season of Game of Thrones. Ed Sheeran will be joining the Game of Thrones cast for a quick cameo alongside Maisie Williams's Arya in Season 7.
"I just do a scene with Maisie," Sheeran told The Hits Radio, as reported by Heat. "I sing a song and then she goes, 'Oh, that's a nice song.'"
Sheeran's odd cameo comes after what has been described as a seasons-long attempt to get him on set. Game of Thrones showrunners David Benioff and Dan Weiss announced in March at the South by Southwest Film Festival that Sheeran would be guest starring, but this is the first hint at what, exactly, Sheeran's role will entail.
"For years we were trying to get Ed Sheeran on the show to surprise Maisie, and this year we finally did it," Benioff said.
Williams is, apparently, a huge fan of Sheeran's doe-eyed, guitar-strumming ballads, so she'll at least be excited while playing Arya.
Arya will definitely be annoyed by the intrusion of whatever plans she's got going on.
Now, the only question that remains is which single Sheeran will serenade Arya with: "Castle on the Hill" or "Shape of You"?
Game of Thrones Season 7 premieres on HBO July 16, 2017.