The 20 Coolest Signs at the People's Climate March
Defending the lives of turtles and all other living creatures on our beloved planet Earth.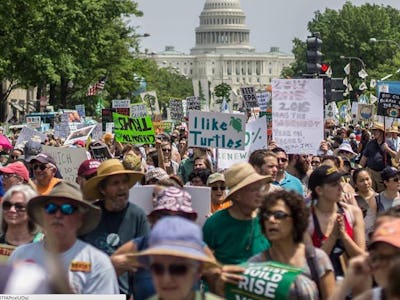 Instagram, Twitter
Thousands of demonstrators descended on Washington, D.C., Saturday for the People's Climate March. Braving sweltering temperatures, participants marked President Trump's first 100 days in office with a colorful show of defiance right in his own backyard.
Organized yearly by the People's Climate Movement the march brings together environmental activists, labor groups, indigenous communities and anyone else who thinks the Earth is important to demand urgent action on climate change. Given the Trump administration's general rhetoric regarding the environment and their plan to gut the EPA, the mood this year appeared especially fervent. Still, a lot of demonstrators managed to express themselves with a sense of humor, and we are gathered here to appreciate them. Here are Inverse's favorite signs from the People's Climate March in D.C.
Actually a really good idea
The power of the people
This sign is being facetious.
That graphic …
Denying climate change is not schwifty at all.
A true meeting of the minds
Fair enough
Also fair enough
Sad Earth
Aww!
Trying to get off the wagon
We all like turtles!
Stranger than fiction
Token meme as analogy for dissent.
Hell yeah.
There he is again!
Honestly, you'd think he could have made a better sign.
Sorry
All aboard
At least there's a bright side.