'Star Trek: Discovery' Switches Klingons, Adds 'Battlestar' Alum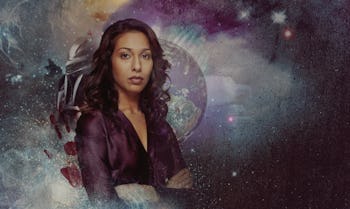 Live Journal
The crews of the starships USS Discovery and USS Shenzhou have just expanded. New changes for Star Trek: Discovery include one Klingon becoming a human and a familiar Cylon from Battlestar Galactica joining the Federation.
On Friday, CBS announced new cast members and characters have been added to Star Trek: Discovery. Hardcore fans and worried journalists have already noticed that actor Shazad Latif, initially announced as playing a Klingon named Kol, is now playing a human Starfleet officer named Lieutenant Tyler instead. There has been a Lt. Tyler on Star Trek before, and oddly, in the exact same era in which Discovery is set. In the original Star Trek pilot — "The Cage" — the Enterprise had a crew member named Lt. Tyler, played by Peter Duryea. Notably, he looks nothing like Shazad Latif. But, with interracial and interspecies families being somewhat common in Star Trek, it's not crazy to assume these two Lt. Tylers might be related.
For science fiction fans, the other big news here is the addition of Rekha Sharma to the cast. Sharma previously played Tory Foster on Battlestar Galactica, where she believed she was human but actually turned out to secretly be an undercover Cylon. On Discovery, she'll play Commander Landry, a security officer.
Two new Klingons have also been added: Clare McConnell will play Dennas, while Damon Runyan is Ujilli. Both characters are described as Klingon "leaders." The character of Kol — previously played by Shazad Latif — will now be played by Kenneth Mitchell.
While some fans and critics are citing the many delays and changes to Discovery as bad news for the long-discussed show, cast changes on a Star Trek series while in production are nothing new.
In 1986, during the preproduction of Star Trek: The Next Generation, Denise Crosby and Marina Sirtis were initially considered for the roles of Deanna Troi and Tasha Yar, respectively, even though they were eventually cast in the opposite roles.
Even more famously, in 1994 actress Genevieve Bujold was cast as the first Captain on Star Trek: Voyager: Captain Elizabeth Janeway. Bujold famously filmed a version of Voyager's pilot episode before leaving the show. Following Bujold's departure, Kate Mulgrew went on to take the role of Captain Kathryn Janeway, and the rest is history.
Star Trek: Discovery has no release date, but it is still anticipated to debut on CBS All Access in the Fall of 2017.