What Is a Martha on 'The Handmaid's Tale'?
The domestic servants are straight out of Margaret Atwood's book and inspired by the Bible.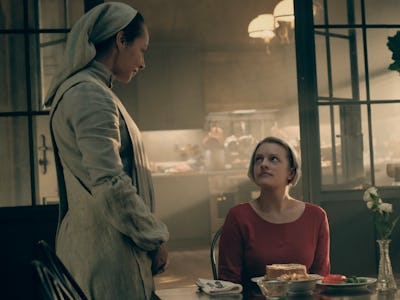 George Kraychyk
The scariest thing about Hulu's adaptation of Margaret Atwood's classic novel The Handmaid's Tale is that the horrifying dystopian society it portrays doesn't look that unfamiliar. That said, there are still some details which need a little more explaining, like exactly how Gilead's regressive caste system breaks down. Viewers should be pretty clear on what a Handmaid is, but Marthas aren't given as much attention.
In the show, as in the original book, Marthas are domestic servants — though in Gilead, where women have no rights, it might be more accurate to call them slaves. Marthas, like the one we've seen prepare meals for Commander Fred's household, differ from Handmaids in a couple important ways. They're not fertile — if they were, they'd probably be Handmaids. Instead, they're tasked with cooking, cleaning, and catering to their masters' every whim, since the men of Gilead will put pretty much any woman to work.
The other way that Marthas differ from Handmaids is that they get to keep their names. The Martha we've seen the most of in The Handmaid's Tale, as played by Amanda Brugel, is named Rita. Handmaids, remember, lose their names and instead are rechristened as property — Offred is named that because she's "of Fred."
The name Martha comes from the Bible, a major source of inspiration for Atwood when she created this dark world. The leaders of Gilead looked for inspiration there, too. Handmaids are inspired by the story of Jacob, Rachel, and Leah, while Marthas hail from a different passage. Martha was a woman who happily focused on chores and domestic work while her sister, Mary, listened to Jesus's word. Here's the full, relevant passage, taken from Luke 10:38-42:
Now it came to pass, as they went, that he entered into a certain village: and a certain woman named Martha received him into her house. And she had a sister called Mary, which also sat at Jesus' feet, and heard his word. But Martha was cumbered about much serving, and came to him, and said, Lord, dost thou not care that my sister hath left me to serve alone? Bid her therefore that she help me. And Jesus answered and said unto her, Martha, Martha, thou art careful and troubled about many things: But one thing is needful: and Mary hath chosen that good part, which shall not be taken away from her.
Marthas and Handmaids don't always get along, as their relationship and differing levels of servitude are complicated.
The first three episodes of The Handmaid's Tale are now streaming on Hulu. Future episodes will be released one at a time every Wednesday.