Watch 'Attack on Titan' Season 2's Most Grisly Death in English
It was a bizarrely potent death that kicked off Season 2.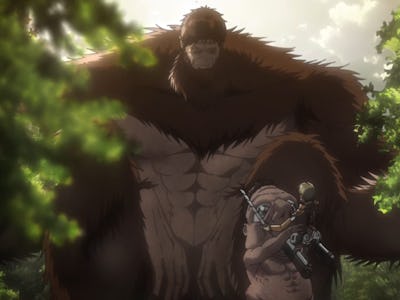 As the original Japanese version of Attack on Titan's second season proceeds, along with English subtitles to Episode 5 this Saturday, the authentic English-dubbed versions of the season's first few episodes are trickling out. They offer an alternate look at the horrific events that occurred during the season premiere — "Beast Titan" — during which even the titular monster himself speaks in English. If you didn't realize already, now's the time to exit for fear of spoilers for Attack on Titan's second season.
In what we ranked as the single worst death ever depicted on the show, Mike Zacharias (the second-best soldier in the entire army, for what it's worth) met his end at the hands of a small group of Titans being commanded by the then-new Beast Titan. Zacharias was largely rendered powerless out of shock at the appearance of the new talking Titan, and after the Beast Titan took his maneuvering gear, there was little he could do to defend himself. To put it lightly, people reacted strongly to the death.
Watch the English-dubbed clip of Zacharias's death below, which includes the Beast Titan's deeply unsettling voice, and the soldier's horrific cries as he's torn to pieces.
Attack on Titan Season 2 airs via simulcast on Funimation and Crunchyroll at 10:30 a.m. Eastern on Saturdays, and new episodes hit Hulu by 11:00 a.m. Eastern.