The Sexiest Movies Currently Streaming On Netflix
Say goodbye to scrolling for an hour on your sexy movie nights.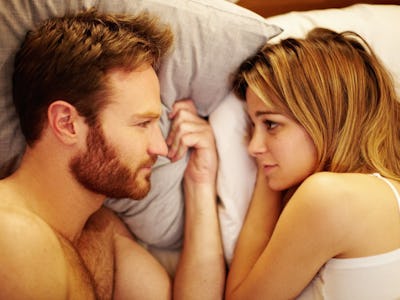 Netflix/ Facebook
If you're having a date night, or a watch-half-a-movie-before-having-sex night, it's a bit of a mood killer to spend the first two hours combing through Netflix until you land on the right selection. No matter how you feel about the latest season of The Crown and Narcos or Adam Sandler's most recent improbable film, scrolling past them will hardly create a steamy vibe. If you want a movie that will put you in the mood, maybe teach you some new things, or make for a memorable date night, here's a handy guide so that you don't have to waste time searching.
Because no matter what your sexual proclivities are, it's a universal truth that Adam Sandler's Ridiculous Six is not exactly sexy. From the titillating to the warmhearted, from gay to straight to everything else, here's the all-encompassing "Sexy Movies on Netflix" guide to get things started for you and your Netflix and Chill partner.
1. Y Tu Mamá También
Otherwise known as "the Diego Luna and Gael García Bernal threesome movie," Y Tu Mamá También is both sizzling and an intelligently written coming of age story. It helps that it's helmed by Gravity's Alfonso Cuarón.
2. Basic Instinct
This classic erotic thriller has a killer suspense plot in addition to the infamous "Sharon Stone crosses her legs" scene.
3. Little Death
This Australian rom com explores unusual fetishes and the dangers of miscommunication in irreverent Love Actually style vignettes.
4. Jane Eyre
Just because actual sex is not present and there's mostly tea and longing looks, it doesn't mean a film can't still be sexy. Jane Eyre is pretty much built on repressed sexual tension.
5. Nymphomaniac
Lars von Trier's epic, artsy examination of sex isn't for the faint of heart. But if you're looking for more intellectual sexy fair, the Nymphomaniac films are a good bet.
6. Kink
A James Franco documentary about the BDSM subculture. Is there anything more you need to know?
7. Weekend
This award-winning British film follows a one-night stand between two men that develops into a deeper bond.
8. Bound
This blatant and unintentionally funny 50 Shades of Grey knock-off stars Charisma Carpenter — Cordelia from Buffy the Vampire Slayer and Angel — and a budget Baldwin brother.
9. Fragments of Love
This Spanish erotic film chronicles a woman reminiscing about past lovers to a new lover.
10. Anatomy of a Love Seen
This lesbian film centers around two actresses who fall in love while simultaneously playing lovers and proceed to break up. They must reunite to re-shoot a love scene after their split. Drama ensues.
11. Perfect Sense
This is a science fiction film about a global epidemic that robs people of their senses, but love and sex play an important role. Oh, and the leads are Eva Green and Ewan McGregor.
12. Amorous
This British film — called Hide and Seek in England and Amorous in the United States — follows a group of young people who leave society behind, attempting to create their own utopia. Obviously "utopia" means "swinging."
13. Sex and Lucia
This Spanish drama film follows the complicated sexual relationship between a woman and a moody writer.
14. Sex, Love, and Therapy
Also called The Missionaries, this French film follows a nymphomaniac and a sex addict as their lives intertwine and they attempt to forge a relationship beyond sex.
This article was last updated on April 24, 2017.