Meet the MMA Fighter Who Became The Rock's Stunt Double
Even The Rock needs someone to do his most extreme stunts.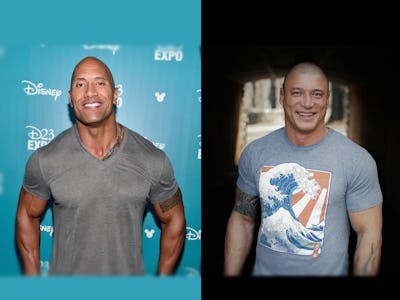 Myles Humphus, Getty Images / Alberto E. Rodriguez
It's opening day for the The Fate of the Furious, and I'm sitting at a bar in Hoboken, across the table from a man who tens of millions of people from around the world will soon watch steer a torpedo across a Siberian tundra. No, it's not Dwayne "The Rock" Johnson but Myles Humphus, his six-foot-three stunt double. Even The Rock needs a stunt double in his blockbuster movies, and that's when Humphus steps in to pull off some of the most athletic and dangerous tasks.
Humphus was raised in rural Georgia, a lifetime away from the world of blockbuster filmmaking. He took a circuitous path to get here, and since 2014 his 18-inch biceps have filled in for The Rock in Hercules, Furious 7, and HBO's Ballers, and will soon be seen flexing in Jumanji and Rampage. He's also an actor in his own right, with speaking roles in Banshee and Marvel's Iron Fist. A former MMA-fighter, he enjoys sangria and finished several rounds of them throughout our conversation.
In his gruff voice, Humphus quotes his favorite movie, 2008's Tropic Thunder, to describe his job: "I'm a dude playin' a dude dressed as another dude," he says, laughing to himself and self-deprecatingly underselling his craft. "You've got to understand who [Dwayne] is, who the character is, so you have to read the script," he adds, more seriously. "If you don't, you don't understand what's happening."
On the day we met, Humphus was gearing up to shoot the monster blockbuster Rampage, which inspired an example: "Is there a giant alligator chasing you? Or is there a giant gorilla? You need to know, 'cause the gorilla is a different character than the alligator. You have to know that."
During a six-week stay on location in Reykjavík, Iceland, for the latest Furious movie, Humphus slid for miles over ice at 60 miles an hour to shove a 100-pound prop torpedo into a tank. Humphus performed the dangerous task with a series of dots scattered across his face, so that Johnson's grimacing mug could be swapped in during post-production.
Humphus remembers filming the shot vividly: "There's no windshield wipers on the truck. Slush is flying up; Jay Lynch, one of the best drivers on the planet, is doing the best he can. That ice is not flat. I'm covered in slush. I'm frozen by the time I stand up." He recalls how the helicopter, carrying the camera crew, cut up ice. "I'm thinking, we're going out big time. We're gonna die here." It took 15 takes to get the stunt right, and it's now the centerpiece of a billion dollar hit movie.
Born to a white Green Beret father and a Korean mother, who worked as a seamstress, Humphus went to a military school where he competed in football, basketball, cross country, and powerlifting. He was discovered by Hollywood in the midst of a short-lived MMA career, during which he was living in a van. He never went down in the first round, but he says his fighting style wasn't cutting it. "You don't ever want to be known as a guy who can take a punch," he says. "You want to be known as a guy that can't get hit."
He was spotted by prolific stunt coordinator Doug Crosby one day at the gym. "He saw me fighting, and he said 'Hey, you want to be in movies?'" Humphus recalls. "I was like, if it pays more than three hundred bucks a night, and I won't get punched in the face, I'll do it."
Crosby pointed Humphus to another coordinator, Brian Smyj, who helped him land his first gig on Saturday Night Live. "I abducted Ron Paul and threw him into a van, which is funny since I lived in a van so long," he says, laughing. After a few years of more work and building connections, Humphus got in touch with Tanoai Reed, Dwayne Johnson's official double (and his cousin). While filming the movie Tracers, Reed called Humphus, offering him a spot on Hercules. "I'm about to jump off a roof when I get the message. He says, 'If you got a passport, we could use you in Budapest.'" Then, on the last day of Tracers, Humphus tore his kneecap.
"I had to jump over a railing. They wanted me like a gazelle, so I tried to do it as fast and high as possible." But the railing buckled underneath, causing him to crash. He knew from the pain it would threaten his hold on the Hercules job, for which he'd be flying to Budapest for the next day. He begged a production assistant for antibiotics and bandaged himself, away from the eyes of the set medic who could declare him unfit to work.
"I couldn't allow an injury to keep me from this." And so Humphus arrived on the set of Hercules to double for The Rock on a bum knee. "Thank God they didn't have me doing a lot in the beginning. It was a pain management thing. There was a lot of swelling, but I fought through that."
Thanks to a strict upbringing and a series of good breaks, Humphus is generally humble. He rattles off the names of a long list of people who helped him get to this point, from Crosby to Smyj to Brett Chan, with whom he worked on Iron Fist. But no one is more inspiring than Johnson, who, like Humphus, also transcended a humble upbringing through sports and fighting. While most people at this restaurant we're in would call him "The Rock," Humphus knows him by his initials.
"DJ is inspirational," he tells me. "He's all about focus. You can't slack when he's around. He's not like some actors who show up and give a half-assed [effort]." Though Reed is The Rock's official double, Humphus steps up when Johnson's beefy heroes need to be extra limber. "If they want somebody to run with agility, that's me. If they want someone big and strong, that's Tanoai," he says. "[DJ] runs really quad-heavy. I try to be a little lighter, more mobile but look like him."
To that end, Humphus trains extensively in boxing, gymnastics, and calisthenics, and doesn't imitate The Rock's legendary weight-heavy routine. In fact, Humphus doesn't lift weights much at all and runs a 4.42 40-yard dash, which would make him a decent NFL draft prospect. Instead, he's the insurance for a man who got famous performing his own stunts in the wrestling ring.
"He can do anything I can physically, but it's a liability issue," Humphus explains. "If he gets hurt, production shuts down. If I get hurt, no big deal. That's why I'm in there." Of course, Humphus is realistic about what that means. "My biggest prayer is they never find the other hundred guys that could do the same thing I could."
Although Humphus makes a good living as Johnson's double, his real passion is acting in his own parts, which he describes as both rewarding and a struggle. His desire to act comes from his pursuit of an outlet for his natural aggression that he didn't have growing up in the rural South. "Fine arts are a way of expressing yourself without harming anybody," he says. "I was bullied, and I bullied. I knocked over mailboxes and stupid shit like that. I had energy that needed to be expressed, and I wasn't allowed to." He's serious about the craft, having studied theater practitioners like Strasberg, Meisner, and Stanislavski.
But because of his look, Humphus is often found playing big, scary, silent dudes: "Bodyguard. Bouncer. Military stuff. It's always, 'Big Scary Guy,'" he admits. He has no problem with it, but he's eager to show he's more than muscle-deep. "I could be more than that. Like, 'Big Scary Guy Who's Scared of Butterflies,' you know? Give him a little bit of something,'" he suggests, laughing again.
So Humphus has taken it upon himself to write his own roles. He's currently writing two screenplays, one titled Lucifer, in which he would play the titular character. Raised in the Bible Belt, Humphus almost sympathizes with "the morning star," who he sees as a guy stuck with a job he didn't want. "Lucifer, the guy who got screwed, and now he's stuck. All you have to do is stop thinking of him as evil, and he could get out. But you won't, 'cause you're too used to it.'"
Humphus doesn't think of his impressive resume of stunt work as hell — the film is more inspired by his time at retail, selling eyeglasses — but it's not hard to see the connective tissue of a man frustrated by his image. But, that's Hollywood, something "DJ" also went through.
"He started being himself, stopped trying to be what he thought Hollywood wanted him to be. People love sincerity, you know?" says Humphus. "He's what America is all about: Work hard, get big as hell, do what you wanna do. When he was trying to be what Hollywood wanted him to be, he wasn't happy. Maybe he was, but that was before I came along."
Humphus grew up watching The Dukes of Hazzard and wanted to be an action hero on TV. He fell into stunt work and is now in some of the biggest movies in Hollywood. Although he's in hot pursuit of acting, he'll still strap himself to rigs and hang onto speeding trucks in the meantime. "People say, 'Are you, like, fearless?' I'm like 'Hell no! I'm terrified!' Hanging on a wire, five stories in the air, I'm freaking out! But nobody's gonna see it, and I'm more terrified of being broke."