The Marvel Cinematic Universe As We Know It Will End in May 2019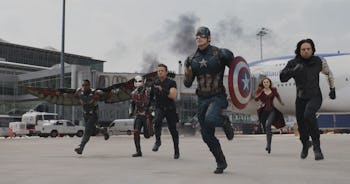 Marvel
Nothing lasts forever, not even the Marvel Cinematic Universe. While there are no plans from Marvel and parent company Disney to stop its decade-long hot streak anytime soon, Marvel Studios figurehead Kevin Feige recently said that things will be "very different after 2019." Meaning, the Marvel Cinematic Universe as we know it will soon end.
In a conversation with Cinema Blend, Feige said that "other than knowing we're going to work with Sony on another Spider-Man film," plus James Gunn's third Guardians of the Galaxy, "it's all about Phase Three" for Marvel at the moment.
He then added: "Things will be very different after 2019, after May 2019."
This isn't to say that Marvel and Disney will call it quits on its movies and TV shows, because why on Earth would they? But this era of the Marvel Cinematic Universe that started in 2008 with Iron Man — and compelled other big Hollywood studios to imitate Marvel — may look nothing like whatever happens after "Phase Three," the last leg of Marvel's three-stage strategy. Phase Three began last year with Captain America: Civil War and will culminate after the fourth Avengers film. Will the next era be Phase Four? Feige admitted, "I don't even know if it will be called Phase Four." It seems Marvel fans could look forward to a truly new era. Maybe fans will finally get a Black Widow movie.
Guardians of the Galaxy Vol. 2, the next Marvel film, will be released on May 5, 2017.