4 Young Scientists Who Could Be the Next Bill Nye
The next generation of scientists is coming.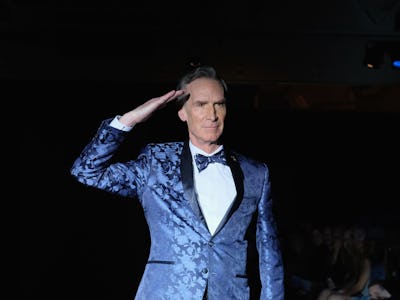 Getty Images / D Dipasupil
As a member of the generation of children weened on Bill Nye the Science Guy VHS tapes that were busted out when a teacher needed a few minutes of quiet, I got the same rush of nostalgia when the new Netflix series Bill Nye Saves the World slid into my queue this morning. And good news: The man has still got it. The series uses the same winning formula — science puns, funny visual aides, and celebrity guests — to make what would ordinarily be a dry biology lesson into an engaging half hour of TV.
But here's the thing: A new generation deserves its own science hero, and while Nye is as engaging as ever, we think it's time for some new stars to be given a chance. Luckily, there's a number of them waiting in the wings, ready to seize the opportunity.
Again, this has nothing to do with Bill Nye himself. He's an entertainment pioneer who belongs in the annals of history, alongside Good Eats host Alton Brown, as someone with the talent to make something as boring as sand dollar fertilization or homemade potato chips into engaging and funny television.
He's also, you know, a white guy representing a field that is not just overwhelmingly populated by white guys but is more or less systemically designed to keep anyone who isn't a white guy sidelined. As much as the entertainment industry loves nostalgia, young audiences should be able to benefit from seeing someone who looks and sounds more like them.
There are plenty of worthy successors who are just waiting for a chance. Just as in STEM fields, the question is not whether they're ready and able but whether Hollywood will be willing to give them the platform to make their voices heard. Here are some of our favorites who are poised to be the next Nye.
Sophie Shrand and Science with Sophie
Chicago-based Sophie Shrand is the charismatic science entertainer with the resume and drive to be the next scientist kids idolize. She's got degrees in both Behavioral Neuroscience and theater, and experience designing educational programs for kids at major science museums around the country. And last year, she launched the Science with Sophie project in an effort to normalize women in STEM and encourage young girls to take an active interest in a field that's been historically more difficult for them to break into.
Thanks to the magic of the internet, Shrand has been able to crowdfund over $40,000 in the past year to make Science with Sophie a reality, with the hope of eventually selling it to a platform that would reach the young people she's looking to inspire. You can check out some preview webisodes on YouTube now, and it's perfectly matched to kids who enjoy the original Bill Nye the Science Guy series — there's music, there's experiments, and there's raw energy and enthusiasm that you're hard-pressed to find anywhere else.
Janet Iwasa and Molecular Animation
Molecular science has a very fitting problem: It's really hard for people to visualize, let alone understand it. This is the problem that 2014 TED Fellow Janet Iwasa made a priority to solve, and she's spent years studying 3D software and communicating with molecular scientists to figure out how best to bring their hypotheses into the third dimension. What resulted was revolutionary for many scientists, who had relied on the 2D textbook drawings to walk students through the complicated material. The new approach allowed a hypothesis to not just be visually engaging but faster and easier to understand.
To date, TED has funded most of Iwasa's work through short webisodes that explain a particular molecular process or public health issue in a concise, shareable way. But it's hard to look at her deeply engaging TED talk and her animated work without craving a longer-form version.
Caitlin Doughty and Ask a Mortician
Caitlin Doughty has created open conversations about cremation, Viking funerals, and off-beat grief rituals, which is a very underrated and important service. Doughty is a former mortician in her thirties, who has spent over ten years moving this discussion forward through projects like The Order of the Good Death, her informative and genuinely hilarious webseries Ask a Mortician and her bestselling book Smoke Gets in Your Eyes.
While Doughty's brand of entertainment isn't quite for the same uber-young set as Nye and Sophie Shrand, her growing following of teenagers is a pretty clear indication that she's the perfect person to delve into uncomfortable, relatively taboo topics. While her straight-to-camera webseries has served her well for years now, it's time for her to get the opportunity to reach a larger audience; if she can make me laugh so hard that soda shoots out my nose while speaking in a graveyard, she damn well deserves it.
As of yesterday, Doughty announced her intention to crowd-fund a documentary about the state of death discussion, so toss some pennies in the well and make it happen!
LGBT STEM
The discussion around the experience of members of the LGBTQ community working in the sciences has been a relatively quiet one in general, and certainly not one addressed on the scale of a Nye-style show. The LGBT STEM blog, only a few years into its existence, is one of the only media outlets in the world that presents this point of view. And it is growing rapidly, inspiring both an annual conference and a widely taken survey on the LGBTQ experience in the STEM workplace, with pending results that will undoubtedly provide some hard figures about hiring discrimination and workplace experience. Most remarkably, the survey thus far has revealed that most LGBTQ scientists are hard-pressed to name another LGBTQ scientist in their workplace, even if they're there — the subject of sexuality is ordinarily not discussed in lab environments, making navigating identity even more challenging.
While there's not a de-facto face of the brand, it would be interesting to see LGBT STEM expand into a web series and develop an onscreen personality to move forward with its mission of making members of the community more visible. For now, though, sifting through the many interviews with LGBTQ people in STEM on its site provides a pretty impressive array of stories about the day-to-day difficulties and triumphs of being a member of a rarely discussed community-within-a-community.