'Chew' Comic Book Creator Takes on 'Sleight'
The artist of 'Chew' draws on Peter Parker in the prequel comic of J.D. Dillard's 'Sleight.'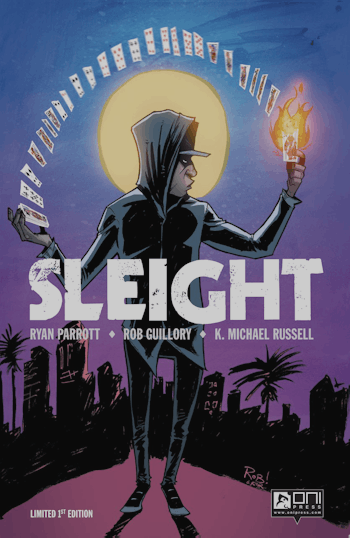 ONI Press
In J.D. Dillard's new indie thriller, Sleight, an orphaned boy genius obsessed with magic tricks provides for his younger sister. Unable to find a good job in Los Angeles, the former MIT prodigy Bo (played by Jacob Latimore) finds himself at the mercy of a brutal crime lord. While Bo doesn't really become a full-fledged superhero with a cape and cowl, Dillard's new film mines the ubiquitous genre's tropes to craft a story about human resilience.
Bo's not a real superhero, but he does have a prequel comic book. Published digitally by ONI Press Sleight the comic is written by Ryan Parrot (Star Trek, Go Go Power Rangers) with illustrations from Eisner-winner Rob Guillory, best known for Chew with John Layman.
Chew, which is a critical darling, is what brought the Sleight filmmakers to Guillory in the first place. "They sought me out for this project, which was good news for me," Guillory tells Inverse. "They wanted me to bring my sensibilities to the project."
After working on 60 issues of Chew, a story he co-created with John Layman, Sleight was a creative change of pace for Guillory. "Anytime you work on something that you don't own, you have to walk a bit of a tightrope there."
What were your goals in illustrating Sleight? It's not your story, but how did you want to put your own stamp on it?
It was pretty simple. I really just wanted to pay tribute to the movie and honor the kind of feel of the movie and still be able to bring my own artistic spin to it. I think we achieved that.
Was it difficult adapting to Sleight, a pretty grounded story, after 60 entire issues of Chew?
Not really. As crazy as Chew got by the end, for the most part it was a police procedural in an urban landscape. Sleight wasn't all that different from what I normally do. It was actually tame compared to what I was used to: A lot of it was holding back from drawing crazy, insane things, and really focusing on telling a solid character story, which is a nice change of pace after Chew.
What do you make about the protagonist, Bo? He's almost kind of a superhero without putting on a mask.
I just love how complex a character he is. He really is a beat character. He is an MIT-quality genius, but then things sideways. He really is the prototypical Peter Parker who had a lot going for him and things kinda went sideways. By the end, he is doing things he doesn't want to do just to put food on the table.
He totally is in a situation where he doesn't see any other way. He does have a job as a valet, but it's not generating what he needs to keep going. So he really is in a stuck situation, having to provide for his sister, and he's a kid himself. So he kind of ends up going th easy route. But it's definitely something real people find themselves in.
Did you look at a lot of superhero comics while working on Sleight?
Not really. I grew up with the Marvel and DC stuff. The first comics I read were that. I know them front and back, so it was nothing I had to research. But Sleight really is in a lot of ways the perfect superhero story. It absolutely reads that way.
Whatever happened to the Chew animated feature film?
The animated feature is not happening. The internet is bad with rumors, we had to go on social media and put it out there that it isn't happening. We recorded Felicia Day, we had Steven Yeun as well as David Tennant. They all recorded and we were moving forward, and it just didn't happen because Hollywood can be weird sometimes. But the animated feature is completely dead. We do have some movement on the live-action show, though.
This interview has been edited for brevity and clarity.
Sleight, the prequel comic, is available online now. The film hits theaters on April 27, 2017.