Comics Predict Skurge's Epic Sacrifice in 'Thor: Ragnarok'
He stood alone at Gjallerbru.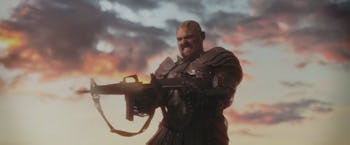 YouTube.com/Marvel Entertainment
For Valhalla! By now, Marvel fans have watched and rewatched the trailer for Thor: Ragnarok. Chris Hemsworth returns as the beefy Norse superhero, Thor, in a space adventure directed by Taika Waititi (What We Do in the Shadows), but the hammer-wielding god won't be alone. Among the new characters appearing in Ragnarok is Skurge the Executioner, played by Karl Urban (Dredd, Star Trek), and audiences may be surprised by his character.
In the trailer, Skurge appears for a hot second firing off a couple of what appear to be Colt SP1 AR-15s, which were used by the American military during the Vietnam War. Such firearms are, to put it mildly, a bizarre choice for Norse warriors. But the fact that Urban's Skurge has them means Thor: Ragnarok may be following a well-known arc for Skurge, a villain who gloriously redeems himself in Walter Simonson's comics.
The moment happens in Thor #362, but Skurge's arc was built and planned out for a long time, from the very beginning of Simonson's run on the comic, which started in issue #337. "The Executioner," as Skurge was known, was an adversary of Thor's who wielded an enchanted double-axe as his signature weapon. Although a fierce warrior, Skurge wasn't the brightest bulb and was frequently manipulated by the likes of Loki, Hela, and even the Enchantress, the very woman he loved. At some point, Skurge snaps.
As Thor leads a group out of the underworld to rescue mortal souls from Hela, they're pursued by Hela's giant army of the dead. Thor steps up to hold the line and let his friends and the innocent souls escape, but he's knocked out by Skurge. Thor's allies think Skurge is going to attack them, but Skurge instead volunteers to take Thor's place and protect them. In a heart-to-heart conversation with Balder, Skurge unloads on how the mighty warrior had been mocked and made fun of for too long:
"They made a fool of me, Balder. They laughed at me. Everybody laughs at Skurge. Hela, Mordonna, even the Enchantress I love. They all laugh at me. Except you. Balder is too kind to laugh at Skurge. But whenever they laugh, I hurt inside. Maybe I die a little. Now I think I am dead already. And my axe was destroyed with Naglfar. So I will stay behind and the last laugh will be mine. … I will hold the bridge myself."
Balder accepts Skurge's sacrifice and gives him their weapons: a crap ton of M-16s. Asgard had become friendly with the American military and lent them weapons for the battle of Ragnarok. Now, Skurge uses them to hold off Hela's evil deadites so Thor and everyone else can escape.
It's a touching moment for such a hard character, and it may have attracted Karl Urban to the role. In an interview with IGN, Urban expressed how excited he was for Skurge's "great arc" in a "fantastic script." Of course, Urban didn't give away exactly what will happen to Skurge, but reading between the lines, it's not hard to infer that Urban gets to maybe steal the spotlight as a heroic Skurge making a sacrifice for something bigger than himself.
"I read a fantastic script that was action-packed and full of great characters," Urban said to IGN. "[T]he character is fantastic. He's got a great arc to him. Obviously, I can't say too much about it, but I'm really thrilled to be a part of the Marvel universe and to be working on Thor: Ragnarok."
Thor: Ragnarok will hit theaters on November 4, 2017.