The International Church of Cannabis Opens in Denver on 4/20
Worshiping the sacred flower just got a whole lot more trippy.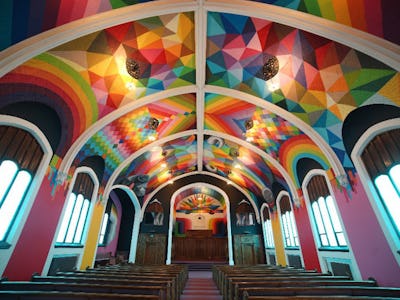 On 4/20, members of the International Church of Cannabis will kneel at the altar of dank bud as they celebrate the grand opening of their community's holy house of worship in Denver, Colorado.
At 13,000 square feet, the massive church is the largest social gathering place in the world where people can freely consume cannabis with one another. The 113-year-old building is located in Denver's West Washington Park neighborhood. Opening the grand doors instantly transports visitors into a psychedelic wonderland with trippy murals of purple and gold.
The founders of the church are calling themselves "Elevationists," a play on words for the euphoric feeling one gets when they smoke the flowering plant, which is also their religious sacrament.
The church is an open-minded congregation that welcomes all faiths and cultures and believes you can reach spiritual fulfillment with just a little (or a lot of) THC.
"We were so happy to find a space that already had a spiritual history, and to be able to retain that element in the use of the property," said Briley Hale, co-founder of the church, in a press release. "It's a great privilege to be able to turn this building around, rather than watching it being converted into condos or left abandoned to attract vagrancy and crime."
Today, the church is asking for donations to continue repairs on the building. As noted on IndieGogo, it needs $100,000 to replace an ancient boiler and to make accommodations for those with disabilities.
For a donation of $4.20 (or just $5), the church will give you membership and invite you to their "420 sessions" live and online, which we assume means some pretty rad spiritual speakers, music, and a cloud of pot smoke, for those who can attend in person.
"The truth is that Elevationists are everywhere," said Hale. "But we need to finally come out of the shadows, from teachers, to homemakers, to corporate executives."