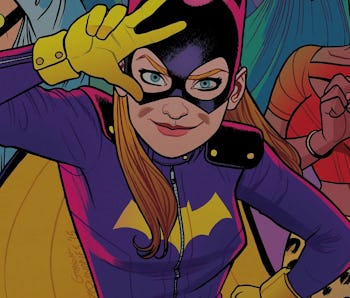 Entertainment
Joss Whedon's 'Batgirl' Won't Star Anyone You'd Expect
DC Comics
Joss Whedon, the beloved geek behind Firefly, Buffy the Vampire Slayer, and 2012's The Avengers, will be entering the DC Extended Universe with a solo Batgirl movie. But, will Whedon cast an A-lister to wear Barbara Gordon's cape? Probably not, as Whedon recently told Variety, it won't be "a name" who will play Gotham's badass daughter.
"I doubt it'll be 'a name,'" he said at the premiere of Guardians of the Galaxy Vol. 2. "I'm not against movie stars, they're great. But you need somebody who's going to be just right. And a situation like this, the name carries a lot of weight." Whedon then jokingly added, "Definitely Vin Diesel."
Go ahead and laugh, but remember that Batgirl is part of the Bat-Family.
Whedon also said that he does not have an "eye on anybody… I feel like I'm creating this character. I'm in a dialogue with her, and then we'll see who joins that later on."
It's worth noting that Whedon typically favors no-name actors while working on big projects, The Avengers notwithstanding. Around 2007, Whedon was working on Wonder Woman for DC and Warner Bros., and his first choice to play the iconic superhero was Cobie Smulders, who at the time was starring as the cigar-smoking news anchor Robin Scherbatsky on the sitcom How I Met Your Mother. (Smulders would go on to voice Wonder Woman in The Lego Movie.)
See Whedon deliver his thoughts on Batgirl below.