Marvel Boss Is Totally Chill With Joss Whedon Making 'Batgirl'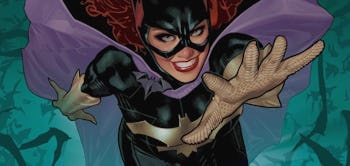 DC Comics
Joss Whedon didn't make the Marvel Cinematic Universe, but his direction over the franchise's most important movie to date — 2012's The Avengers — made him a key creative talent for the Marvel brand. So it was shocking when the Firefly creator signed on to direct Batgirl for rivals DC and Warner Bros. about a month ago. But if you ask Marvel Studios president Kevin Feige, he isn't just cool about it, he's also excited to see it himself.
Marvel Studios hosted an open house on Monday at Walt Disney Studios in Burbank, California where Feige told a group of reporters his thoughts on Whedon directing Batgirl. He said that he actually knew about the development well before most people because Whedon called him personally to let him know.
"He called a couple months ago, which he didn't have to do and was super cool of him and super nice of him," said Feige. "And we couldn't be more supportive. We want to see a Joss Whedon Batgirl film be awesome."
Feige has a point: Whedon didn't have to do anything. From the fan's perspective, it's easy to see where lines are drawn and where loyalties should lie, but professionally, all that matters is the next job. After directing Avengers: Age of Ultron in 2015 and consulting on other Marvel projects like the ABC series Agents of S.H.I.E.L.D., Whedon seemed pretty much free. He's certainly not in Zack Snyder's position, so Batgirl it is for Joss Whedon.
The Batgirl standalone doesn't have a release date yet.