Bill O'Reilly's New Movie Still in Development at Fox's Nat Geo
Activists may target 'Killing Patton' next.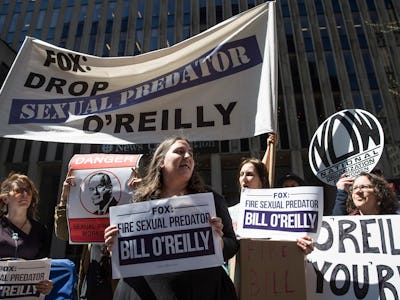 Getty Images / Drew Angerer
Fox News on Wednesday announced that it would not bring back Bill O'Reilly, the long-time host of the ratings juggernaut news show The O'Reilly Factor. The parent company of Fox News, 21st Century Fox, has not yet completely severed ties with the former host; however, a movie adaptation of his book Killing Patton remains in development at another of its cable networks, Nat Geo.
"Killing Patton is currently in early development for 2019 as has been widely reported," a National Geographic spokesperson tells Inverse. "Tonight is our upfront, and we're focused on announcing our robust and exciting 2018 slate. We're not making any decisions at the moment beyond our current upfront slate."
The host's cable news downfall came after a swift series of events over the last month: First, it was disclosed that he and Fox News paid out $13 million in settlements with five different women who accused O'Reilly of sexual harassment. Then, activists groups began pressuring advertisers to drop O'Reilly's program; over 40 eventually pulled their money away from the 8 p.m. program. Finally, financially hobbled and the target of street protests, Fox News pulled the plug on the host's 21-year run on the network. Women's rights group UltraViolet, which led the charge against O'Reilly, claimed victory when the news was released — and then noted that there was more work to be done.
"I imagine that other businesses that are associated with Bill O'Reilly, including venues for his upcoming No Spin tour, his book deals, the movie deals based on his books, and even colleges and universities that have bestowed O'Reilly with honorary degrees, will all be reconsidering their relationship with O'Reilly," Karin Roland, the group's campaign chief, tells Inverse.
O'Reilly is a best-selling author, and his history-focused "Killing" series — including Killing Lincoln and Killing Kennedy — has been adapted into TV movies. All of those movies have been produced by and then aired on Nat Geo.
As for O'Reilly's book deal, Henry Holt and Co. said on Wednesday that nothing had changed, and his next book is still on target for release this fall.