A T-Shirt Cannon Just Became Canon at Star Wars Celebration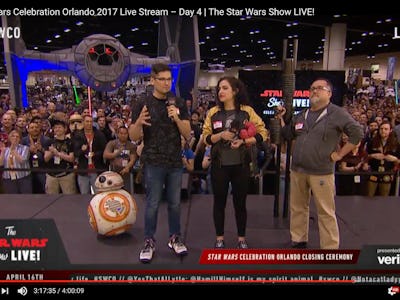 YouTube / Star Wars
After four dreamlike days of Star Wars fandom, attendees of the 2017 Star Wars Celebration in Orlando gathered to bid farewell and recap the weekend. Fans and hosts sounded off about how much the event means to them, offering their favorite moments and memories. The event began with a crowd-pleasing blast, thanks to some creative writing from a Star Wars heavyweight. Lucasfilm's Pablo Hidalgo helped kick off the event by giving a t-shirt cannon an official name in the Star Wars Universe.
"What I'm holding is a Merr-Sonn Munitions SWS-1013 Projectile Launcher," he said before firing a shirt into the cheering crowd.
That's right. He made a cannon canon. Hidalgo then challenged EA DICE to include the weapon in the upcoming Battlefront 2.
Of course, what would the weekend be without another reverent viewing of the trailer for Star Wars: Episode VIII — The Last Jedi?
After the trailer, Warwick Davis offered his own thoughts on Star Wars Celebration, conveying how grateful he is to George Lucas for starting the actor's career at age 11. In a lighter moment, he even ribbed his Return of the Jedi co-star, Golden Tony:
"We had the one — and thank goodness the only — Anthony Daniels here several times across the event," joked Davis. He also paid tribute to cosplayers for their creativity, and couldn't help gushing about joining the cast of Star Wars Rebels for Season 4.
Davis even unveiled the … uhh … creative result of the droid-building competition:
The Closing Ceremony capped off with a video tribute to the weekend and all the fans who made the event possible.
You can watch these moments and more from the closing ceremonies, as well as the rest of Sunday's Star Wars Celebration events, here: