Nat Geo's 'Origins' Tells the Story of Our Compulsion to Explore
Jason Silva narrates a tour through the pivotal moments in the expansion of human knowledge.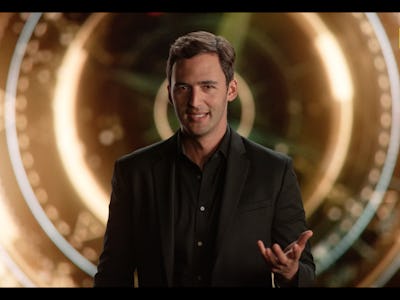 National Geographic
The first episode of Origins, a new documentary series on the National Geographic Channel premiering Monday, hones in on exploration of all sorts, from the bottom of the ocean to deep space.
Entitled "Into the Unknown" and intensely narrated by Brain Games's Jason Silva, the premiere episode of Origins takes a deep dive into the innate human desire to explore. Beginning with the simple rafts of early humans as they made their way to places like Austrailia and moving through time to a solar-powered airplane, the episode charts through the ways humanity's quest for knowledge has evolved throughout history — and into the future.
The show's delivery method is a mashup of Silva's narration, interviews with expert historians and scientists, historical reenactments, and stylized artwork.
While die-hard science or history geeks might not encounter any new info, Origins impressively weaves a narrative that encompasses humanity's quest for knowledge and new frontiers. Whether it's charting the stars or mapping the ocean floor, Origins casts people's desire to know, see, hear, and experience more as a fundamental — even biological — element of their nature. It's an ennobling look back at how far we've come.
Among other things, the episode recounts the work of Galileo Galilei, the invention of the compass in China, and technological prowess of the Vikings. There's something for everyone, entry points for people with greatly varied interests.
That's the crux of the show, after all. Its thesis is the universal nature of the drive that motivated all the characters within the episode. At times, the writing can get too cheesy, the presentation too dramatic, and the narrative a bit disjointed — but "Into the Unknown" will nevertheless be compelling for those with an interest in where humanity will go next.
Check out a clip from the episode right here:
Origins premieres at 9 p.m. Eastern on April 17, 2017.