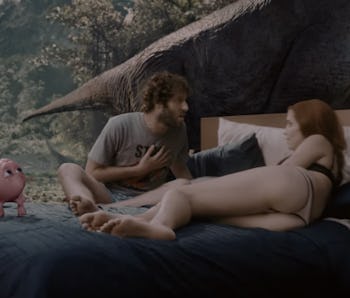 Entertainment
Lil Dicky's New Video Stars John C. Reilly and a CGI Brain
'Pillow Talking' is reportedly the 49th most-expensive music video of all time.
Lil Dicky
Lil Dicky's next project, Pillow Talking, is finally online, and it's one of the most expensive music videos ever produced, reportedly costing $700,000 to make.
Rapper Lil Dicky, aka Dave Burd, is a polarizing pop culture figure at best. In 2014, he debuted a music video for his track "Ex-Boyfriend" on YouTube, rocketing himself to internet fame among bros and hip-hop fans. Over the next few years, he crowdsourced some of the development of his first studio album, Professional Rapper and released four new hit videos online: Classic Male Pregame, Professional Rapper (featuring Snoop Dogg), $ave Dat Money (featuring Fetty Wap, T-Pain and Rich Homie Quan), and Molly (featuring Brendon Urie of *Panic! At the Disco). Though Burd's videos tore through the internet like wildfire, many critics remained unimpressed.
Professional Rapper debuted at No. 7 on the Billboard Hot 100 chart, and Burd's 275,000 Twitter followers have been anxiously awaiting the video for Pillow Talking, which debuted this week. The video is absolutely bonkers, using CGI and actor John C. Reilly to bring to life Lil Dicky's diatribes about God, dinosaurs, aliens, and why the girl he just "spazzed on" is incorrect in her assessment of our galaxy. Pillow Talking isn't the first Lil Dicky video to feature a celebrity, but it's probably the strangest. After all, Burd's former guest stars have only needed to perform as themselves — though admittedly Fetty Wap and T-Pain go the extra mile in $ave Dat Money. Here, John C. Reilly plays an indecisive God while mouthing along to Lil Dicky's rhymes.
In the video, Lil Dicky and an unnamed girl (Taylor Misiak) finish having sex, smoke a bowl together, and try to small talk (aka pillow talk) while they fall asleep. When the girl mentions that her brother is in the Army, Dicky asks if she "fucks with the war," which angers her. He then asks if she ever thinks about whether the American military is prepared to fight off an alien invasion, to which the girl responds that she doesn't believe in aliens. Dicky and the girl then argue about whether God exists, which leads them to an argument about whether it's okay to eat meat. All of this is rendered in CGI in the video, including a cute version of Dicky's brain, who emerges from Dicky's closet and attempts to meditate the discussion.
Watch the nearly 11-minute, batshit insane music video, produced by VFX studio Giant Propeller, below.
Lil Dicky's first studio album, Professional Rapper, is in stores now.