Actor Dies on Set of 'Attack on Titan' Live Play
Japanese acrobat Kazutaka Yoshino fell from a great height while inspecting the play's technical systems.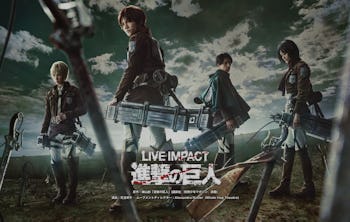 This week, renowned Japanese acrobat Kazutaka Yoshino was killed on the set of Live Impact Attack on Titan when he fell 30 feet from the set's upper wiring to the stage below. Yoshino was working as an acrobat on the Attack on Titan stage play, which is still in production at Tokyo Disney's Maihama Amphitheater.
Yoshino was considered Japan's top male aerial performer, and he was playing an unnamed Survey Corps member alongside actors Hiroki Miura as Eren, Minami Tsuki as Mikasa, and Yuya Endo as Levi. The cast reportedly includes over 150 Japanese actors and aerial performers.
Director Akiko Kodama, who adapted Naruto to the stage recently, has not commented yet on Yoshino's death.
The stage play, which will continue production, posts updates on the construction of its set via Twitter. Most recently, the play's official Twitter account posted on-set photos and introductory videos featuring the play's main actors, but nothing has been posted since Yoshino's tragic accident.
Yoshino was a performer with Cirque du Soleil before accepting the role in Attack on Titan. You can watch the full trailer for Live Impact Attack on Titan below.
(Update: Live Impact Attack on Titan was cancelled shortly following Yoshino's death, and all trailers were taken offline.)
Live Impact Attack on Titan will run from July 28 to September 3 at Tokyo Disney.