Reviews Say 'Star Wars' Novel 'Thrawn' Is Evil Sherlock Holmes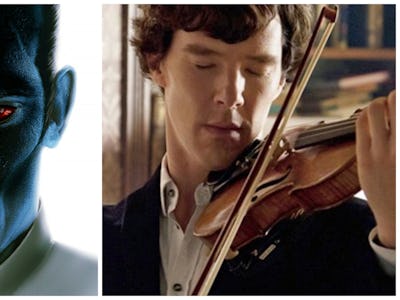 Del Rey, BBC
Grand Admiral Thrawn, that Imperial mastermind of a galaxy far, far away, has been given the spotlight in a new canon Star Wars novel, and critics are almost unanimously comparing him to an evil Sherlock Holmes.
Mild spoilers ahead for Star Wars: Thrawn.
Published on Tuesday, the new book — simply titled Thrawn — doesn't bring back any major characters, which means Mara Jade isn't back either. This follows the confirmation from author Timothy Zahn that despite bringing back one character from Heir to the Empire into official canon, that was it. So no Mara Jade and very few references to characters or situations outside of folks connected to Thrawn's rise to power. This means Admiral Pryce, from Star Wars Rebels, is featured in the book alongside a few casual references to Anakin Skywalker. Other minor canon resurrections took place too: a language Zahn created, Sy Bisti, has also apparently reentered canon, thanks to the new novel.
The quality of the book is up for debate, but at least three prominent reviewers have mentioned that the book paints Thrawn in a very Holmsesian light. Writing in a positive review for Nerdist, Amy Ratcliffe says "[Thrawn's] intelligent and has observation skills similar to someone like Sherlock Holmes." Over on Den of Geek!, Megan Crouse gives the book a lukewarm recpetion saying "…the novel does offer some shading to Thrawn's Sherlock Holmesian characterization, but the people around him aren't as well-drawn…every Holmes needs a Moriarty, and the lack of a clearly established villain is another thing that hurt the novel." Finally, Ricky Church on Flickering Myth gives the book a big thumbs up but also can't avoid noticing the influence of the great detective writing; novelist Timothy Zahn delivers an "interesting character piece on the central villain that's one half Star Wars and one half Sherlock Holmes."
So, what's with all the Sherlock comparisons? Isn't Sherlock Holmes a good guy? Yes, but comparing Sherlock Holmes to Thrawn does makes a lot of sense. Just watch one episode of Star Wars Rebels and the comparison writes itself. Whether Zahn intended this or not isn't entirely clear, but Thrawn's ability to see beyond the obvious and make deductions seemingly out of thin air make him the Holmes of Star Wars. In the new book for example, he figures out what the Death Star is without ever seeing it. He's also not really a bad person, but, like Holmes, he is cold and calculating. In a sense, the book is trying to make him sympathetic. His whole goal is to use his huge brain (not Force!) to keep his people safe.
Now, fans of Thrawn and Sherlock Holmes can only hope that Benedict Cumberbatch (or even Jonny Lee Miller) are cast to play the blue-skinned baddie in some future Star Wars film.
Thrawn is out now from Del Rey Books.