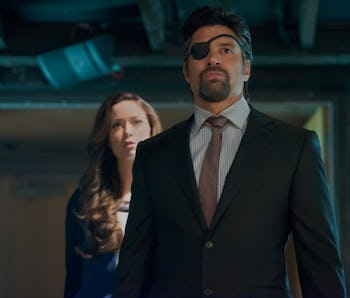 Entertainment
So, Deathstroke's Actor Says He's Not Returning to 'Arrow'
The CW
Well, this is weird. On Monday, Arrow lead Stephen Amell revealed on Twitter that Manu Bennett would reprise his role as beloved supervillain Deathstroke on the show. Except, Bennett himself is now saying that's not the case. But, with both Stephen Amell and producer Marc Guggnheim saying that he will, is this yet another one of Deathstroke's tricks?
Amell and Guggenheim both tagged Manu Bennett (@manubennett) in two tweets confirming his return as Deathstroke in Arrow. Shortly after, Bennett responded to Amell's tweet, hilariously, in confusion: "WTF?????"
He then followed up in a separate tweet: "For the record — I'm not going back for Arrow! #assumptionisthemotherofall…"
So was this another instance of a show's actor revealing info he wasn't supposed to? This time, probably not. Around the same time of Amell's tweet, Marc Guggneheim himself "confirmed" Manu Bennett's return on the social networking site. "BTW, the return of @manubennett is only the first of a few exciting announcements about Arrow's sixth season finale…" he wrote.
So what's going on here? While Arrow could be cheating by bringing back Deathstroke without Bennett under the mask (as the show has done several times), both Amell and Guggenheim have made it a point to name and even tag Manu Bennett.
In an interview with Entertainment Weekly, producer Wendy Mericle teased that the Green Arrow will have a "surprising" alliance. "You're not going to believe who Oliver is working with to defeat Prometheus," she said. "It's going to be really emotional. It's going to be all about Oliver's family, but not the family we're thinking of right now."
Following Guggenheim and Amell's tweets, it wasn't hard to conclude that Oliver Queen would be asking for help from Deathstroke, who is currently imprisoned on the island of Lian Yu. (The show's season finale is titled "Lian Yu.") Now, fans are just confused about what's actually going on.
Below are the tweets in question. First, Bennett responding to Amell in utter confusion.
Then, Bennett hashtagging his way out of being involved.
And that would be the end of it, if it weren't for Guggenheim's tweets.
Arrow will return on April 23, 2017 to The CW.