This Alt Comix Artist Wants to Revive Classic Animation Tech
"I think this style of animation is worth devoting one's life to," Dash Shaw, creator of 'My Entire High School Sinking into the Sea,' tells 'Inverse.'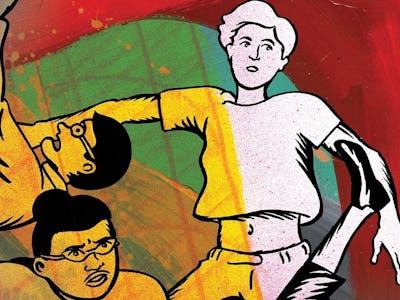 Animation World Network
Dash Shaw is a household name… if you live in the kind of household that reads a lot of of alt comix and zines. Shaw's work, distributed largely by the publisher Fantagraphics, often focuses on nerdy adolescents, without idolizing them or making their quirks into a disingenuous spectacle. In his first film, My Entire High School Sinking Into the Sea, an all-star cast of voice actors brings Shaw's sweet, unusual teenagers to life.
Shaw tells Inverse that booking a bunch of A-listers was bizarrely easy for him. "I've known Jason Schwartzman a long time, through comics," he says. "Although I knew him and Lena Dunham just from being a cartoonist and going to Sundance labs, I sat with their email addresses and thought, 'Why would they do this?'" He asked anyway, and to Shaw's surprise, all of the actors, including Susan Sarandon, Reggie Watts, and Maya Rudolph, said yes. "I realized, [with a cast this big], people might actually see this movie."
Shaw was right; the film premiered in Toronto and was subsequently met with critical acclaim at the New York Film Festival and Fantastic Fest. This year, Entire High School is distributed by GKIDS, which has represented several Studio Ghibli films like A Town Called Panic and The Secret of Kells.
Shaw seems unlikely to be led astray by his newfound mainstream success; he is a soft-spoken artist who travels down long tangents about art. Entire High School's protagonist is a wordy teen writer who's also named Dash, but the movie is no ego trip. Shaw confirms that it's no accident, but the film isn't exactly autobiographical.
"Entire High School is an adaptation of a comic I wrote back in 2009. When I was a teen, the main conceit in most alt-comix were autobios," he explains. "I figured it would be funny to give my main character my name but have him clearly be a combination of delusional fantasies, and have the plot around him follow the other main school of comics at the time, which was mainstream adventure stories."
It's that sly dissonance that makes Entire High School so joyful, even as teenagers are eaten alive by the sharks pouring into their school, which is, as the title suggests, sinking into the ocean. "It's based on things from my autobiography, but it's also a joke, or it's warped," he says. It's a play on how movies are often told from the perspective of this one character. It's like…if Indiana Jones was just named George Lucas."
Shaw is hesitant to talk too much about Entire High School's big, flashy cast or the positive critical reception he's received. He's too interested in the film's production and technical systems to give much of a damn about his audience growing. "If someone had told me, you're going to be playing Lincoln Center's Alice Tully Hall, that would have fucked me up a bit."
Before Entire High School got to the animation stage, Shaw and his team had to create thousands of drawings. "I storyboarded the whole movie with colored markers. Then those boards became the basis for the division of labor. Scene 3, shot 4 board; you know, Jane [Samborski] pencils it, Dash inks it." After scanning thousands of drawings, the team used a multi-plane camera, similar to the one Walt Disney invented in the 1940s.
Though Disney's animation technology inspired Shaw, he's far more interested in what he calls "limited animation cartoons. "I like [cartoons that] have a strong relationship with comic books," Shaw says. His favorites include the first Astro Boy season by Osamu Tezuka and the Charlie Brown Christmas special.
"Those drawings are very direct, and the animation is reduced to gestures that feel very powerful. It's different than Disney's 'squash and stretch' rotoscope CG," he explains. By continuing to work in animation, Shaw hopes to find a place for his work between Disney's complexities and cartoons that feel more like comics.
He describes the system of contemporary animation, as he sees it, with his hands. "It's like one little branch of the animation history tree going out, and I want to participate in that branch and see how it relates to experimental cinema and independent cinema. I really, really, really, really want to be on that branch," he says, his eyes shining bright with possibility.
Shaw prefers simplistic-looking animation, and he believes that's his sweet spot. "There's more in that very particular beauty. I think it's worth devoting one's life to," he says.
My Entire High School Sinking Into the Sea hits select theaters nationwide on April 14.