Apple iOS 10.3.1 Will Help Protect Against Wifi Attacks
The company's latest update will boost security on compatible devices.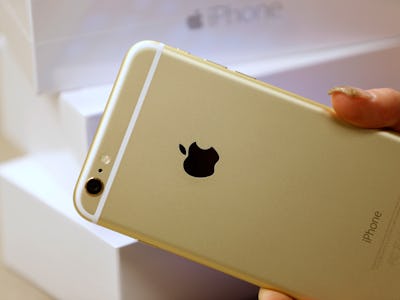 Getty Images / George Frey
Apple is rolling out a software update that will make iPhones more secure. The company is now prompting users to download iOS 10.3.1, released last Monday, and based on the new upgrade's security notes, it's well worth the hassle.
The update, downloadable either by plugging the device into a computer or through the Settings app, fixes an issue where an attacker may be able to make unwanted code run on the device's wifi chip.
The exploit was discovered by Google's Project Zero team, a group of security analysts founded in 2014 that are tasked with finding software flaws. The aim is to make the web safer for Google's users by searching for bugs, filing the ones that they find in an external database, and sending reports to developers to help them fix critical issues.
The iPhone exploit focuses on a Broadcom wifi chip that iPhones have used since the iPhone 4 and is in use on many Android phones. In a blog post on Tuesday, Gal Beniamini demonstrated how the exploit could allow a hacker to fully take over a phone just by being near the target device (in this case, a Nexus 6P). Apple's security notes that accompanied the update cited Beniamini's work, but did not explain whether an attacker would be able to reach the same level of control on an iPhone as they would on the Nexus 6P.
The easiest way to make sure you're up to date is by visiting the Settings app on your phone, then General, then Software Update. If you have not yet installed the update, you will be prompted to do so.
This update is also compatible with the iPhone 5 and 5c, unlike iOS 10.3 that was released the Monday prior to 10.3.1. That means users of those phones will receive all the features added in that update alongside the wifi fix. These features include a new Find my AirPods feature for locating your misplaced wireless headphones, expanded Siri support, and a new file system optimized for the iPhone's internal storage.