When 'Attack on Titan' Season 2 Will Probably Be on Netflix
For all you streaming junkies out there.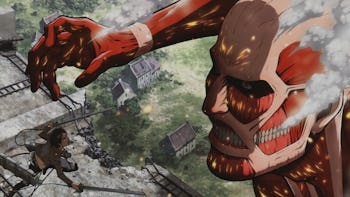 The second season of the popular anime series Attack on Titan, based on the manga series of the same name by Hajime Isayama, premiered on April 1, finally putting fans at ease for the time being. But also prompting that ever-present question from binge-watchers everywhere: When will it be on Netflix?
Well, unlike a lot of other streaming services, Netflix, for those who need a reminder, doesn't make an episode streamable immediately after it has aired. The entire season has to premiere first. So, Season 2 has to have a finale before Netflix can even think about putting it up for streaming.
Let's hash this out. The first season of Attack on Titan premiered around this same time in 2013 — Episode 1, "To You, in 2000 Years: The Fall of Shiganshina, Part 1," premiered April 7, to be exact — with the finale falling in late September of the same year. And since Attack on Titan Season 2 is expected to be about the same length as its first season, it's easy to assume the Season 2 finale will fall around the same time as the first season's: in late September.
So, sorry to tell you, but it might not be until late 2017 or early 2018 that Attack on Titan Season 2 becomes available on Netflix.
Luckily, though, there are ways to watch it as it airs.