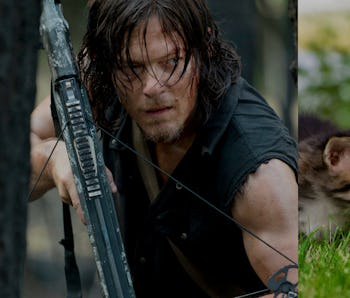 Entertainment
Norman Reedus Teases Death and Kittens for 'Walking Dead' Finale
fanfast
Death is always a given in the zombie apocalypse, especially on The Walking Dead. The Season 7 finale of AMC's hit zombie show is bound to be just as brutal as its infamous opening episode, and Daryl Dixon actor Norman Reedus just might have confirmed that.
"There's a whole group that gets taken out," Reedus told Yahoo TV when asked to reveal two truths and a lie about the finale. "There's a bunch of balloons in one [scene]. And a cat has kittens."
After the emotional slog Season 7 has been, some cute kittens feel like a welcome addition to the cast. And the balloons might add some color — and some hope. In Season 6, Enid's green balloons were an indication from Glenn to Maggie that he was alive after all, that he was returning home safe and sound (for the time being). In The Walking Dead, balloons are a symbol of life, hope, and family.
And the most believable truth of the bunch? The bit about "a whole group" getting taken out? There's actually a good chance that's the lie. Despite the different gangs gearing up for war, and tensions running high, the likelihood that an entire group will bite the dust (or get bitten by Walkers) seems small. What's more likely is a bloodbath that results in a lot of death and a lot of pain, but nothing that wipes out a whole group. So, while your favorite characters might be in the line of fire, at least someone will live.
One of those left alive will probably be Negan, too.
The Season 7 finale of The Walking Dead premieres Sunday on AMC at 9 p.m. Eastern.