What Can 'Walking Dead' Comics Tell Us About Negan's Fate?
The question of whether or not Rick will kill Negan is complicated, even if we compare comics to TV.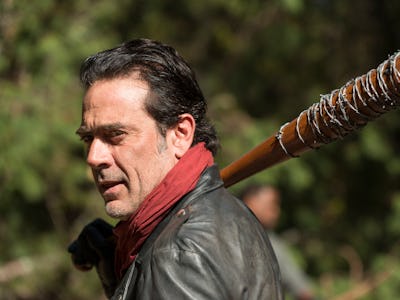 AMC
When the Walking Dead Season 7 finale airs this Sunday, fans will finally get to see what Rick and the gang have been ramping up toward for months. "The First Day of the Rest of Your Life" will pick up from where "Something They Need" left off, right at the perfect intersection between AMC's zombie drama and Robert Kirkman's original comics. Michonne and Sasha have now taken the place of comics characters Andrea and Holly, and the old Dwight switcheroo is likely to play out in the finale as well. But what, you might ask, is to be done with Negan?
In Kirkman's comics, Negan is still alive, though his fall from power has already gone down, and it's complicated as hell. Comparing the comics to the show, AMC's The Walking Dead is currently synced up to Issues 20 and 21 and will likely play out the events of the issue in the Season 7 finale.
That means Negan will unleash a zombified Sasha on our heroes, Dwight will double-cross Negan, Rick will get shot with an arrow, and he may or may not get to slash Negan's throat. The catch is: Negan doesn't die.
Two years after that panel, we see Carl visit Negan in a basement. He tells Negan about seeing a girl's tits for the first time, and Negan sounds proud of him. He asks, "Do you still want to kill me?" and Carl says yes. Negan is, as Rick puts it in Issue 21, "rotting in jail for the rest of [his] life."
In adapting Rick Grimes to the small screen, however, AMC made the character a lot more unhinged, and quite a bit more impulsive, than the man who appears in the comics. That means, in order to quench the bloodlust that's currently radiating off Walking Dead fans, the show might elect to actually kill Negan, though it most likely won't happen this week.
The Walking Dead airs Sundays at 9 p.m. on AMC.