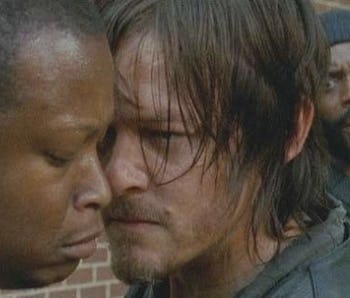 Entertainment
Norman Reedus Sounds Fed Up With 'Walking Dead' Fans
Walking Dead fans agree on two things: Season 7 has been boring as hell, and Daryl Dixon is the man.
The Walking Dead tanked both critically and in viewership this season, with each episode bringing in a smaller group of fans than the week before. Many fans complain that when Jeffrey Dean Morgan's Negan showed up in the Season 6 finale, the show became the "Negan" show, making it almost as sadistic in its storytelling as its big baddie is to other people. But actor Norman Reedus, who plays fan favorite Daryl Dixon, is reportedly fed up with fan complaints, and he's not taking it anymore.
"Everybody has a computer and everybody has an opinion," Reedus told The Dirty. "But you gotta stop. If you don't have too much violence, they go 'there's not enough violence.' Too much violence, there's too much violence." Though Reedus has given the show some of its most memorable moments over seven seasons, he's missing the point here. No one who religiously watches The Walking Dead is opposed to violence; it's joyless "torture porn" they abhor, and AMC's zombie drama has been asking its viewers to tune in and watch their heroes beaten into a pulp every week, without any hope of vindication or retribution. The Walking Dead has arguably been much gorier in previous seasons, but it's never been this bleak or boring.
Reedus ended his rant with, "you just have to tell the story sometimes," which is an apt point. However, because the show has been lingering in the events of The Walking Dead Issues 19 and 20 for an entire season, fans are itching to get the plot to lurch forward. Most fans are actually asking for more violence, technically, as Rick and the gang have been prepping for a war against the Saviors that just never seems to arrive.
The Walking Dead airs Sundays at 9 p.m. on AMC, and the Season 7 finale airs this week.