'Destiny 2' Brings the War to the Homefront in First Trailer
"We lost everything: the Tower, the City, our home."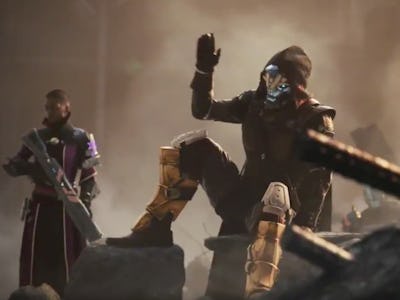 The full "Rally the Troops" worldwide reveal trailer for Destiny 2 is here, following a comedic, booze-fueled outing featuring Cayde-6. The longer trailer takes a much more somber tone for the Guardians and the Last City while still allowing Cayde his punchlines.
The trailer features rallying speeches from Commander Zavala, leader of the Titan Vanguard, and Cayde-6, leader of the Hunter Vanguard. Their respective leadership styles are to be expected: Zavala is grave and intentionally inspiring, whereas Cayde is a bit self-aggrandizing and sarcastic.
The Cabal have taken the Tower and the entire City, leaving its inhabitants and its Guardians stranded to regroup in the nearby woods. As Cayde explains, "So, everything is gone: your stuff, my stuff, most importantly my stuff."
At least Cayde promises, "There will be a ton of loot!" Check out the trailer here:
We now have a confirmed release date for Destiny 2: September 8.
Destiny fans are currently partaking in Age of Triumph with updated classic raids, actively pursuing new versions of the Crota's End raid weapons. Age of Triumph is something of the game's last hurrah before the sequel, which Destiny 1 characters will not be able to fully transfer to.