Tesla Just Doubled Its Active Autopilot Cameras in One Update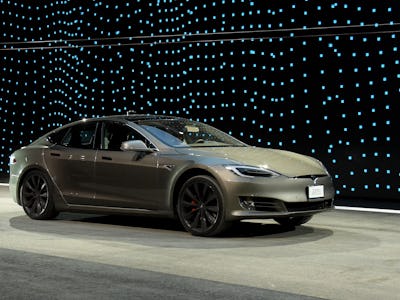 Getty Images / Ethan Miller
Tesla's latest software update will have a huge impact on its fledgling Autopilot system. On Wednesday, the company released the 8.1 software update, which aside from a nifty sketchpad also brings a new camera online for Hardware 2 vehicles to see the world around them. Before the 8.1 update, the cars were using radar, GPS, and a single camera to power Autopilot features. Now they're using two, and Tesla is just getting started.
The best part is that system isn't even running at half capacity. Hardware 2 vehicles are built with eight cameras, alongside the radar, GPS, and ultrasonic sensors. Three of them are facing forwards, while the other five are pointing around the car. Right now, six of those cameras are still dormant, waiting for future software updates to make them an integral part of the car's Autopilot and safety systems.
Tesla's company has the ambitious goal of enabling cross-country autonomous road trips by the end of the year using this array of sensors found in newer cars. The car's Nvidia Drive PX 2 platform should be enough to enable full autonomy, but Musk has said the computer may need switching out. All the sensors are there, though, and Musk's approach to enabling autonomy through software means new Tesla owners potentially have a self-driving car parked outside their house, even if its software isn't quite ready. Tesla Update 8.1 brings this vision closer to reality.
Tests from Electrek found that the new update, delivered over-the-air to the car's computers, finally brings Hardware 2-powered Autopilot driving up to the same levels as its predecessor. Before, the semi-autonomous system used for driving along highways was powered by Mobileye technology. Tesla switched to its own system after the pair dissolved their agreement. The car maker originally wanted to use both systems side-by-side until it felt comfortable switching away from Mobileye, but Mobileye refused.
After Tesla publicly made the switch to its in-house system in October, with the launch of Hardware 2, it gradually released software updates intending to restore functionality as and when it felt comfortable with the software's capabilities. Autonomous parallel parking was restored last month, and the highway driving speed limits gradually increased with every update.
With the latest update, the feature is capped at 80 miles per hour, making it comparable to the original Autopilot:
The full self-driving future is almost here.