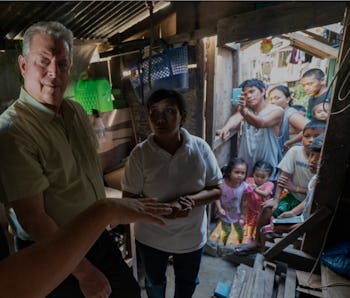 Entertainment
Watch the Incredible Trailer for 'An Inconvenient Truth' Sequel
Just today Trump signed an order rolling back environmental protections.
Photo via YouTube / Paramount Pictures
Al Gore just released the trailer for the sequel to his famous documentary An Inconvenient Truth, and it's a doozy. An Inconvenient Sequel: Truth To Power looks to be a blunt assessment on our progress to curb climate change and the anticipated impact of the new Trump administration.
The film premiered at the Sundance Film Festival on January 19, right before President Donald Trump's inauguration. Its first half tells the story of Gore's fight to get the 2015 Paris Agreement ratified; that part has a happy ending. Then the documentary moves on to discuss Trump's election and its implications for environmental protection.
Back on January 19, Trump's climate-damaging policies were still only hypothetical. But on Tuesday he signed a major executive order rolling back President Barack Obama's Clean Power Plan, which would have taken major steps move beyond the already dying U.S. coal industry and replacing many coal-fired power plants with wind and solar farms.
Gore's trailer couldn't have come at a better time. It features quotes from Trump's speeches, clips of serious storms (in particular, Hurricane Sandy) and worldwide sites impacted by global warming, interviews with affected citizens, and plenty of Gore running around trying to bring the world to its senses.
An Inconvenient Sequel: Truth To Power arrives in theaters on July 28.