What Was Up With the Revenge Porn in the 'Power Rangers' Movie?
Everything about the film's revenge porn storyline was bad from start to finish.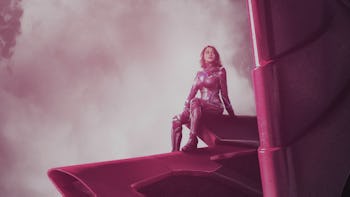 There's a moment in the new Power Rangers movie when the five rangers, sitting around a campfire after an especially trying training session, admit that they're all screwups. The Yellow Ranger, Trini, is a loner whose parents don't approve of her extremely ambiguous sexuality, while the Black Ranger, Zack, uses his wildman persona to cover up deep fears about his ailing mother's health. They're being hard on themselves — they're not screwups, they're just people, flaws and all. Except, there's one Ranger who doesn't come clean about her flaw right away. That's because Kimberly Hart, the Pink Ranger, isn't a complex, three-dimensional character like her counterparts. In the 2017 Power Rangers universe, she's a criminal who shared explicit private photos of one of her friends.
The most baffling thing about this character choice, though, is that Power Rangers wants us to know that Kimberly's really the victim here. And we're expected to cheer when the actual victims of her revenge porn posting get undeserved comeuppance.
Additional spoilers for Power Rangers from here on out.
Revenge porn — an ugly, serious, and tragic crime — is a heavy subject for a tentpole blockbuster like Power Rangers to handle. That's not to say that popcorn movies should stay away from meaningful social issues, but they should approach them with respect. Power Rangers has serious moments between the Zord action and "ay-yi-yis," so it's not like this was impossible. Kimberly's storyline, though, is so jarring not just because it's a hell of a thing to drop in the middle of what's ostensibly a kids movie, but because of the thoughtless lesson it tries to impart about revenge porn.
After first hinting at the truth in an early detention scene, we eventually learn that Kimberly's friend Amanda had shared an intimate, sexy picture with her. However, we find out that Kimberly had a crush on Ty, an unseen classmate that had eyes on Amanda. To break up this union, Kimberly sends Ty the photo, along with the caption, "Is this the girl you want to bring home to mom?"
It's not a typical revenge porn story, but make no mistake, that's what Kimberly just did. When we meet Amanda for the first time, though, she and another friend are portrayed as bullies who literally cut Kimberly out of their friend group. It plays as though they're being petty when in reality they're having a frankly understated reaction to a horrifying betrayal.
Later in the film, Kimberly comes clean to Jason, the Red Ranger. She tearfully recounts having to look into Amanda's father's eyes as he saw the now widespread picture of his daughter. She says she didn't realize the severity of what she had done, but now she feels awful. Jason essentially tells her to put it in the past and assures Kimberly that she's not a bad person.
Well, not to put too fine a point on it, but she kind of is. There are ways in which Kimberly could have been redeemed, but there's no real penance to go along with that misplaced sympathy. It doesn't help when, during the big climatic battle with Rita Repulsa's globby gold monster, Kimberly's Zord fires on Goldar and sprays liquid metal over the street. Some of it lands on Amanda and her friend's car, destroying it and nearly hitting the occupants. As they scream, the film cuts back to Kimberly who murmurs "that's what you get" with a satisfied smirk.
One of Power Rangers' central heroines is a revenge pornographer, and we're supposed to feel bad for her and cheer when her victims get payback for, what, exorcising a traitorous friend who leaked their nudes? It's a shockingly dark and confusing plot, and the ill-advised gloom makes it a little harder to enjoy yourself when the classic "Go, Go Power Rangers" theme kicks in.