'Casting JonBenet' Debuts Stylish, Horrifying New Trailer
Netflix is about to drop a JonBenet story by way of 'The Shining,' 'Starry Eyes,' and 'The Neon Demon.'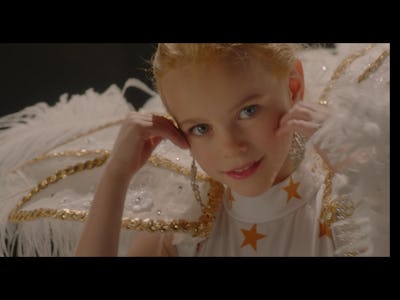 Netflix
How much time needs to pass after an American tragedy before we can enjoy art about it? Netflix says the 21 years that have passed since the brutal murder of 6-year-old pageant girl JonBenet Ramsey is long enough. The trailer for Casting JonBenet, Netflix's stylish quasi-documentary that blends actor reenactments and testimony, has just dropped online, and it's absolutely harrowing.
In the past year, JonBenet has been the subject of several TV shows and documentaries, but none have gone as far as Casting JonBenet to explore the famous victim's image and what it means. She wasn't just a young murder victim but a child pageant performer styled and coached by her parents to appear and act much older than she was. Each of JonBenet's family members became murder suspects, but her father John was immediately suspected of pedophilia. The trailer for Casting JonBenet uses a few spliced-together shots which seem to suggest the documentary will explore that disturbing chapter of JonBenet's story.
Though the case remains open, public opinion remains split between suspecting JonBenet's mother or older brother. It's clear from the trailer that Casting JonBenet will devote some of its artsy exploration to Burke Ramsey, the wild-eyed little boy whom many believe killed his sister in 1996.
Watch the full trailer below.
Casting JonBenet debuts on Netflix April 28.