Gorillaz Just Dropped 4 Dope New Songs and a 360-Degree Music Video
Wait 'til you get a load of these features.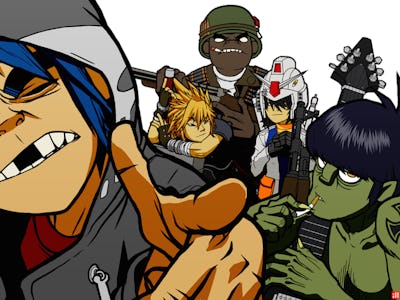 Gorillaz
Gorillaz fans were hoping the cult favorite, Brit pop band would drop two new singles today, but the real news is actually better. For the first time since the single "Hallelujah Money", Gorillaz dumped four new bangers online, as well as a trippy 360 music video featuring the fictional, animated band members 2D, Murdoc, Noodle, and Russel.
All four tracks will presumably join "Hallelujah Money" on Humanz, the new album due on April 28. The features on the record, which is the band's first in six years, include Danny Brown, D.R.A.M., De La Soul, and Pusha T.
"Andromeda", which features the lovable D.R.A.M., is the stand-out hit among the new songs, laying down a simple melody over bouncy electronica that sounds crisp and sparkling like Röyksopp and Broken Bells. It's also sexy in a way Gorillaz songs aren't usually: The most often repeated phrase is "take it in your heart now, lover."
Just as "Hallelujah Money" was gently political, "We've Got the Power," featuring Jehnny Beth of Savages, sounds like a manifesto for peace.
"Ascension" is the hardest banger of the three, and it features Vince Staples. It's also the most polished, sounding more like Plastic Beach than "Clint Eastwood," the single that rocketed the duo to international fame back in 2001.
"Saturnz Barz (Spirit House)" (feat. Popcaan), which actually includes a video of the Gorillaz members exploring a haunted-looking house, recalls many of the duo's multimedia promotional stunts. In 2016, the Gorillaz website was completely overhauled to include a ton more information about the group's cartoon avatars. "Saturnz Barz" shows that the animated characters, especially Noodle, have grown up a lot since they first appeared in Gorillaz's music videos. The band's site specifies that Noodle, specifically, went on a long journey to find herself. You can follow that story on her official Instagram.
The 360-degree video is below:
Humanz, the next Gorillaz album, will hit stores April 28.