D.R.A.M. Is About to Be a Household Name in Hip-Hop
From "Cha-Cha" to "Broccoli," D.R.A.M. is one of the best artists of this new generation.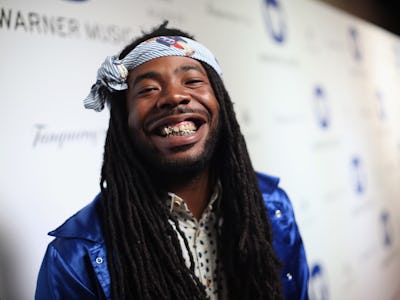 Getty Images / Joe Scarnici
Many hip-hop fans know that Drake stole his "Hotline Bling" beat from D.R.A.M.'s viral song "Cha-Cha." Drake compared his track to Jamaican artists performing over the same riddim, but D.R.A.M. still felt a way about Drake using his song to create a hit, as he should have. Rather than dwell on the situation, D.R.A.M. went ahead and released an even better single this year, alongside fellow new artist, Lil Yachty. That song, "Broccoli," is now number 6 on the Billboard Top 100 and it seems like it's going to stick around. D.R.A.M.'s fun aura directly influences his music, and affable his nature allows him to produce a unique sound. We anticipate him becoming a sonic legend very soon.
D.R.A.M.'s album, Big Baby D.R.A.M. was released on October 21st. Although he is categorized as a hip-hop artist, this categorization vastly simplifies the work D.R.A.M. creates. Yes, he can rap. For example, at the end of "Change my #," D.R.A.M. raps a quintessential, skillful rap verse, but if we take that as the defining core of his discography, we're missing out on a man who can do so much more. A lot of today's R&B artists have voices that blend perfectly between rap music and R&B. Tory Lanez, Bryson Tiller, and to a lesser extent, Chris Brown, all share this rap/R&B characteristic, but D.R.A.M. is different. His music incorporates a myriad of so many sounds (funk, rap, R&B, rock) that the resulting project feels transcendent. Listening to a D.R.A.M. track makes you wonder why no one's ever tried to do what he's doing before.
His song "Misunderstood" uses a guitar and a bass instrumentation that sounds like a live performance, rather than something created in a studio. D.R.A.M.'s vibrato and his use of auto-tune make "Misunderstood" one of the best songs on the album. "WiFi" with Erykah Badu sounds so beautiful that you won't believe they're talking about something so simplistic. And then Mama Erykah Badu jumps on the track with her recognizable and magnificent voice to elevate a song so high that it's nothing less than amazing. D.R.A.M. roped us in with some of his more playful records and then sprung a body of work on us that is laced with a wide range of sounds meant for all personalities.
At the same time, D.R.A.M.'s songs are extremely fun; he's not trying to be something that he's not. In "Cute," he says, "I choose you like a Pokémon." Is it corny? Yes, obviously. But turns of phrase like that make him approachable, and unpretentious. He also wrote a whole song about how his girl went through his phone and how he wishes he had a stronger password. We can't help but laugh at some of the subjects he is singing/rapping about, but the songs are so soulful, that you don't want to laugh too hard and miss out.
It's early to make assumptions about the type of person D.R.A.M. is — he's still a relatively new artist. But listening to his songs and watching his videos, the whole vibe reminds me, personally, of Ol'Dirty Bastard, Busta Rhymes, or Biz Markie. These individuals were simply having fun. Although the content may differ, people enjoyed the music because it was simply and wholly good. Whether or not the album becomes a classic, we shall see. But, D.R.A.M. is really creating classic hits that definitely deserve some attention.