The Actual OG Power Rangers Reunited for a Car Commercial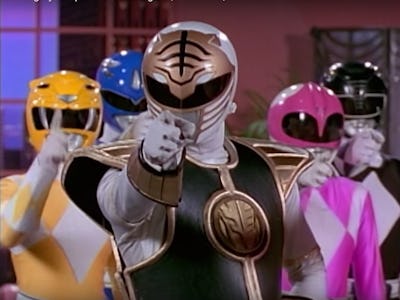 YouTube.com/Ford Motor Company
Nostalgia for the '90s is in full swing as Saban's Power Rangers, the PG-13 reboot of the original TV show, hits theaters this weekend. Ford is capitalizing on the reinvigorated phenomenon with a new entry in its Ford Overdubs series, which taps into generational nostalgia in the most hardcore way. The automotive giant reunited the original cast from Mighty Morphin Power Rangers' sophomore season to dub over an old scene to hype up the 2017 Ford Escape.
The scene comes from the Season 2 episode "Lights, Camera, Action" that aired way back in 1994. In that episode, the Power Rangers were invited to a late-night talk show but are called into action when the evil Lord Zedd transforms one of the TV cameras into his Showbiz Monster. So yeah, the fact that this has been turned into a Ford ad is the least crazy part.
Original cast members Jason David Frank (Tommy, White Ranger), Karan Ashley (Aisha, Yellow Ranger), Jonny Yong Bosch (Adam, Black Ranger), Steve Cardenas (Rocky, Red Ranger), David Yost (Billy, Blue Ranger), and Amy Jo Johnson (Kimberly, Pink Ranger) all reprised their roles for the ad, bringing the same nutty energy they had almost 25 years ago. Only the Power Rangers can make talking about "enhanced parking systems" and cargo space sound superheroic.
See the video below:
Another video, which also features Jason David Frank alongside original monster voices Kerrigan Mahan (Goldar) and Wendee Lee (Scorpina), has the Power Rangers square off against two old enemies while still talking about Ford.
Karan Ashley confirmed her participation in the ad on her Facebook page.
Saban's Power Rangers is in theaters now.