'Captain Underpants' Reveals Everything in First Movie Trailer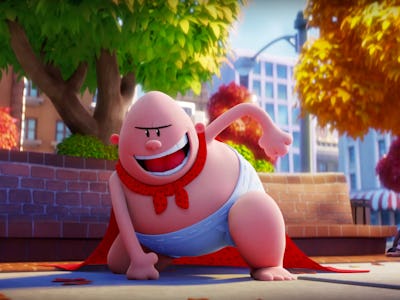 Dreamworks
Anybody who thinks they're too "mature" to laugh at a bit of good ol' fashioned potty humor is either lying to themselves or a snob. Assuming you're not in one of those two unfortunate categories, chances are you'll probably get a kick out of the first trailer for Dreamwork's Captain Underpants: The First Epic Movie, which dropped on Thursday.
The flick is the implied first installment of a new animated film series based on the hit children's book series Captain Underpants. As with the books, the film follows two prank-loving elementary students named George and Harold. The pair, who are voiced by Kevin Hart and Thomas Middleditch, frequently come into conflict with their principal Mr. Krupp, voiced by The Hangover star Ed Helms. In an attempt to get out of trouble, they try hypnotizing him and are shocked when they're able to convince Krupp that he's actually Captain Underpants, a tightey-whitey-wearing superhero that they invented.
Captain Underpants has no powers, but it looks like he's exactly the hero the world needs. The villainous Professor Poopypants, played by Nick Kroll, is going to enact toilet-themed global dominance, but Captain Underpants is here to pooh-pooh those plans.
The trailer captures the proudly childish humor of the original books from author/illustrator Dav Pilkey, but mixes in a lot of DreamWorks Animation's signature tone. There are a lot of vaguely adult and vaguely dated references, like George and Harold walking into the school wearing shutter shades, à la Kanye West in 2007. It looks like an interesting mix.
Captain Underpants will hit theaters on June 2, 2017.