Vibrator Company Settles Massive Lawsuit for Tracking its Users
When intimacy is no longer intimate.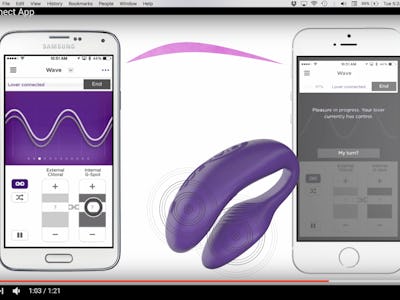 Photo via YouTube
Remote control vibrators are a huge fad in teledildonics. Toys like We-Vibe can connect couples across the world via wifi and Bluetooth. These vibrators have been heralded as the saviors of long-distance relationships and the facilitators of new realms of erotic possibility. Sounds great, in theory, but apparently the "we" in "We-Vibe" doesn't only include you and a partner. The manufacturer behind the vibrator, Standard Innovations, just settled a massive class-action lawsuit in which plaintiffs claimed that the corporation tracked their vibrator usage habits.
The lawsuit alleges that Standard Innovations collected the following data: "the date and time of each use, the vibration intensity level selected by the user, the vibration mode or pattern selected by the user and, where available, the email address of customers who registered with We-Connect." The last part is especially dubious because it would have allowed Standard Innovations to connect data to specific users. Court documents report that 300,000 people purchased a We-Vibe, and about a third of them used the app, opening them up to the invasive data collecting. The company allegedly transmitted all of this information to its servers in Canada, which kinda takes the "intimate" out of intimacy, doesn't it?
This is an especially disconcerting invasion of privacy, sure, but it's not exceptional. The designers of your internet-connected devices (often collectively referred to as the "Internet of Things") want to glean as much information as possible from you. Usage data helps them make their products more marketable. More details about your sex life mean more money in their pockets.
Clarifying the lawfulness of this sort of data collection is already one of the defining legal issues of the early internet age. A key point in the We-Vibe lawsuit seems to be that the company didn't notify customers that it was going to assemble this information. Under the settlement terms, Standard Innovation will be more transparent about its data collection methods in the privacy notice, and will no longer gather email addresses. The company has also agreed to dole out up to $10,000 to anyone who used the app, and up to $199 to those who bought We-Vibe but never activated it.
We-Vibe is taking the heat right now, but do Lovense, OhMiBod, Vibease, and other wifi- and Bluetooth-enabled vibrators also track users? They could. If you use these or similar products, you should assume that that is a possibility. Cybersecurity should be a human right, but until it is recognized as such and fully protected, your data isn't safe. Even when better defenses are in place, vulnerabilities will always exist.
Future trends and norms will probably encourage us to incorporate the Internet of Things even further into our sex lives. (And if you're imagining that the possibilities are limited to just physical stimulation, think again). When this happens, let's hope that increased transparency about data collection arrives in tandem.