9 Awesome TV Shows You Can Binge-Watch in One Day
Stuck inside for the day? These short shows will keep you company.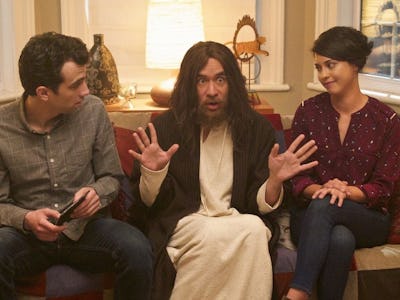 Whether it's a snowstorm, a hangover, or general fear of the outdoors that has you stuck inside for the day, you're going to need something to occupy your time. The most obvious choice is watching TV, but you might be wary of getting halfway through a show and then being forced to leave your home, never to finish the rest of the series. It's with good reason — not knowing what happens in the lives of fictional characters can be way more stressful than being in the dark on what's going on with your real-world friends and family. So we at Inverse have taken it upon ourselves to provide a handy guide to series you can binge-watch in a day and avoid risking a devastating cliffhanger. These options represent a wide variety of lighter romantic dramedies to Buffy-grade horror or anime, so take your pick.
Lovesick, Netflix
British sitcom writer Tom Edge came up with the greatest TV title of all time: Scrotal Recall, a play on words for a show about a guy who finds out he has chlamydia and has to tell all his old exes and flings. But people are ungrateful rubes, so they were turned off by the title, and it required a major change to get a second season. Having a much more generic title is a worthy trade off for more of this show, which is a deceptively sweet look at love, loss, and regret. Dylan (Johnny Flynn) is easy to root for, but also easy to get annoyed at, which makes him the perfect leading man for a show about a well-meaning but self-involved modern man. His best pals Evie (Antonia Thomas) and Luke (Daniel Ings) add a lot of depth, and in Season 2, their stories often take center stage. — Jordan Zakarin
The Kettering Incident, Amazon Prime
There are only eight episodes of this eerie, trippy Australian drama series, but they'll give you plenty to obsess over. The show follows Anna, who decades ago was involved in a mysterious disappearance in her hometown on the hauntingly beautiful island of Tasmania. When she was just a girl, a friend of hers disappeared amidst terrifying flashes of unexplained lights. When she returns as an adult, another girl goes missing in a similar way, and it seems like Anna might have something to do with it. Anna's attempts to clear her name, deal with complex logging town intrigue, and unravel a sci-fi mystery are engaging, but Tasmania itself it the real draw. It's alien-looking and the perfect setting for what could best be described as Lost meets Top of the Lake. — James Grebey
Crazyhead, Netflix
You've probably scrolled past this nondescript show more than once on Netflix, and if so, today's the day to finally settle in and watch this quick six-episode run. The BBC original is basically black, British Buffy, with less stodgy world-building and more complex female friendships. It has the same cheesy special effects though, so Whedon fans will feel right at home as they fall in love with a new and unruly Scooby Gang. — Krutika Mallikarjuna
Planet Earth, BBC America, Amazon Prime
It's hard to believe it's been more than a decade since the original BBC series Planet Earth was released, but here we are. If you're snowed in during a blizzard and want to feel very far away from a city covered in ice, you could do worse than revisiting the eleven episodes in this series that's on Netflix right now. If you can't watch them all in order (but you really should), why don't you start with "Great Plains," the episode that takes viewers around the world, closing with a scene in Africa where elephants are forced to share a watering hole with lions. You can guess what happens. There's also Planet Earth II, released this past October, which can be seen on AMC Networks, BBC America, Sundance TV, or AMC. — Nick Lucchesi
Master of None, Netflix
Comedian Aziz Ansari became a household name as Tom Haverford in Parks and Recreation, but he became something so much more with Master of None, a series he co-created, writes, stars in, and sometimes directs. The show follows the personal and professional life of Dev, a young actor fighting against the typecast roles he faces as an Indian man while also struggling in the murky waters of contemporary dating in New York City. With a delightful supporting cast and a progression of episodes that strikes a nice balance between serialized and procedural — sometimes taking an episode to meditate on an entire relationship, race in acting, or gender roles — Master of None is every bit a tour through the best spots New York has to offer as it is a truly great modern comedy. — Corey Plante
Voltron: Legendary Defender, Netflix
A reboot of the iconic '80s anime, Voltron: Legendary Defender is a binge-able Netflix exclusive with a fun, diverse cast of fleshed-out characters in a sci-fi universe. Giant mechs fighting aliens should be reason enough to watch, but the fact that the show makes you care more about the pilots themselves can make it an obsession. — Eric Francisco
Catastrophe, Amazon Prime
One of the best romantic comedy shows in recent memory, it begins with a nightmare premise. Rob Norris (Rob Delaney) has a one-week stand with Sharon Morris (Sharon Horgan) in London, and when she realizes she's pregnant, he returns from Boston to try to make it work. Delaney and Horgan write their characters so beautifully that they feel like close friends to the viewer after just an episode: a couple you go out with and wince when they argue (which is often), though you're pretty sure their sex life is way more exciting than yours (it is). The show follows two imperfect people without fetishizing the fact that they're difficult or dysfunctional, so it's a feel-good version of shows like You're the Worst and Difficult People. It's mid-way through its third season, but at six episodes a season, it's an easy binge. — Emily Gaudette
Man Seeking Woman, FXNow, Hulu
There is likely no show that better portrays the modern struggles of dating and transitioning to adulthood, and there's certainly no show that portrays these real dilemmas with such profound absurdity. Created by author Simon Rich, the series stars Jay Baruchel as a well-meaning, perfectly average guy named Josh who is just trying to navigate a world that is both familiar and impossibly strange; there are no rules in Man Seeking Woman, so he can be literally tortured by his sweet Jewish mother, attend a wedding in hell with his best bud Mike (Eric André), find himself transported to a medieval town square, and get a visit from a cranky holy father. By taking away the limits of everyday life, the show explores the modern condition better than any other program constrained by them. — Jordan Zakarin
O.J.: Made in America, Hulu, WatchESPN
This Academy Award-winning documentary is a sweeping eight hours long, but it needs every second of that time to tell the story behind the infamous O.J. Simpson murder case — and beyond. It doesn't just explain what was going on in Judge Lance Ito's courtroom, it explains who O.J. was, and explores how race and police brutality led to that not guilty verdict. Gripping and graphic, Made in America will teach you more than you ever thought there was to know about that case — and how relevant it still is today. — James Grebey