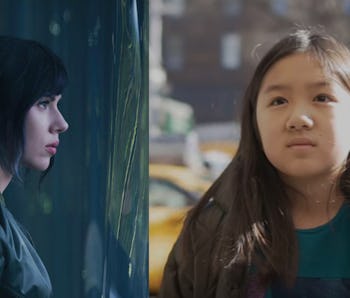 Entertainment
This "Ghost in the Shell PSA" is Going Viral for a Moving Reason
Paramount Pictures, Chewy May/Youtube
The Major's stoic brand of violence might not make her a great role model, but some argue that her legacy as a Japanese character is violently important. A couple of fans who identified with that element of the character set out to document it.
When Scarlett Johansson was announced as the lead character — the Major — for the upcoming American, live-action Ghost in the Shell film, accusations of whitewashing and cultural appropriation abounded across the internet. In response, two Asian-American comedians based in New York City — Jes Tom and Chewy May — decided to create a two-minute video, "Ghost in the Shell PSA," that cataloged their thoughts and feelings toward the new Ghost in the Shell. It was, for the most part, revered as a cohesive voice illustrating people's concerns with whitewashing the story.
Ghost in the Shell is based on the Japanese manga of the same name, written and illustrated by Masamune Shirow, which was originally published in 1989. The new movie is expected to follow the same story of an elite police force led by Major Motoko Kusanagi — who's just going by "the Major" in the film. The name change (as well as the changing of other elements of the original story) only furthered the whitewashing accusations, eventually leading to a reaction video.
"Whitewashing Asian people out of stories created for and by and about us makes it hard for other people to see us as full, dimensional people," Tom told BuzzFeed on March 9, explaining their reason for creating the PSA.
The video tells the short story of a little girl going to a comics shop only to be disappointed by the female heroes she finds in the stories — they're all white, and she can't find a representation of herself in the store. Finally, she comes across Ghost in the Shell, which prominently features Japanese characters. The girl smiles, and then the video pans to the little girl all grown up (played by Tom) and running across a poster for the upcoming Ghost in the Shell movie. The disappointment is clear on her face, and the reaction is followed up with: "Movies aren't real, but they affect real people."
Many rallied behind the video, thanking the creators for providing a coherent voice and a simple explanation for their anger over Johansson's casting. As with anything, there were dissenters — people immediately posted reaction videos (one, in particular, calling the PSA "racist") and reaction videos to the reaction videos — but the overall consensus is still a positive one. The PSA points toward one, all-important conclusion: that representation matters, especially for minority groups.
Ghost in the Shell premieres in theaters March 31, 2017.