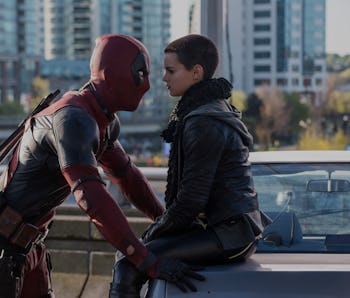 Entertainment
Punk Sidekick Negasonic Has Grown Up a Lot in 'Deadpool 2'
20th Century Fox
Deadpool may have been quick to warn Negasonic Teenage Warhead to "Look away, child" in their mutual big-screen debut, but it seems Negasonic will have done a lot of growing up for the upcoming Deadpool 2.
Negasonic actor Brianna Hildebrand was at the South by Southwest Film Festival in Austin, Texas, where she spoke to Screen Rant about her upcoming project and her thoughts on Deadpool 2.
The fan-favorite Hildebrand revealed that she hasn't seen a script yet, but she said, "I do think [Negasonic] will be a lot cooler, based on the wardrobe ideas and stuff. I'm very excited." Hildebrand has, however, seen some concept art, and says: "I think it's cool that she's grown and matured and she still has so much of this essence of a punk kid."
Negasonic Teenage Warhead is confirmed to be making an appearance in the highly anticipated Deadpool 2 alongside her X-Men mentor Colossus (Stefan Kapicic), who will undoubtedly continue to big-brother her relentlessly.
"I felt so close to Negasonic in that she reminded me so much of myself," Hildebrand says. "Like young, teenage/tweenage, angsty like pissed off Brianna is who she reminded me of. It was just like, 'Oh! She's so cute. I get her, you know?' So yeah. That was super exciting to see that people liked her too because it felt like people liked me, or the part of me in there somewhere."
What it means for Negasonic to have "matured" for Deadpool 2 is up for debate. A couple years will have passed IRL between the first and second films, and two years in the life of a teenager are undoubtedly significant. There's a chance Negasonic will be able to hold her own in a fight (even more so than before) going forward, and maybe Colossus will worry less about his protégé.
Deadpool 2 is expected to premiere in theaters March 2, 2018.