'Alien: Covenant' Stars Share Acting Insights at SXSW
Ridley Scott, Katherine Waterston, Michael Fassbender, and Danny McBride talk Kubrick, A.I., and muppets.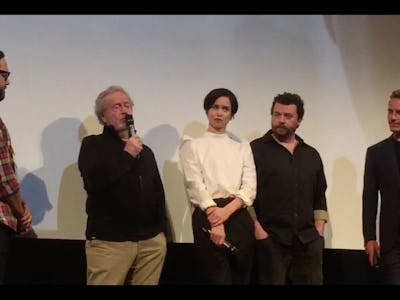 Facebook/ Harry Knowles
For her role as Daniels in Alien: Covenant, Katherine Waterston took inspiration from Daisy Ridley's Rey in Star Wars: The Force Awakens but not in the way you'd expect. As audiences saw in Star Wars, Ridley is a really good runner. This fact was not lost on Waterston.
"There was this other director I worked with who would send me emails all the time, saying, 'You know, Daisy Ridley's a really good runner,'" she told an audience at South by Southwest on Friday night. "And like, saying these things about other actresses that looked really tough in movies, just to fuck with me."
Waterston made these comments during a panel at SXSW, right before a 15-minute preview of Alien: Covenant, which comes out on May 19. Sir Ridley Scott, Michael Fassbender, and Danny McBride also took part in the panel, sharing their experiences making the latest Alien film, as well as some insights into the actors' roles.
Fassbender is back for his second Alien film. He once again plays an A.I., though not the same one he played in Prometheus. When asked about this role, Fassbender shared his insight into portraying an A.I. and how it differs from human roles. Waterston joked that, as a man, Fassbender had little trouble pretending to be brainless. He ran with the theme.
"As men, we don't multi-task very well, and David's an excellent multi-tasker," Fassbender said. He also shared the joy he felt about getting the chance to work with Scott and portray an android on screen one more time.
"The most important thing for me was to have fun with this character and enjoy the experience of doing it," he told the audience. "Coming back was just a follow-up of that, really."
Scott said that he hopes his science fiction vision can somehow match up with reality. He spoke with admiration of Stanley Kubrick, whose HAL 9000 in 2001: A Space Odyssey outpaced contemporary understanding of computers.
"Stanley Kubrick did a brilliant A.I. before anyone really thought that a computer could take over," said Scott. "A computer was the leading character in 2001. He was just a glass eye with a voice, and he knew everything, could do everything, and manipulated the two astronauts. That was a stroke of genius. It was a forecast of what's to come 50 years later."
In addition to predicting the AI technology of tomorrow, Alien: Covenant marks another momentous shift: This film is a decidedly new type of role for Danny McBride, who's made his name starring in comedies like Pineapple Express and Eastbound & Down. He joked about this fact during the panel discussion.
"It's the first movie I've done that my parents actually think is a real movie, so it's good to have finally won their admiration," said McBride. He went on to say that, when Ridley Scott asked for an initial meeting with him, the actor had no idea why.
"I was afraid that he had asked to meet the wrong person," joked McBride. Kidding aside, though, the actor confessed his lifelong admiration for the franchise. He shared his stunned reaction to the moment when Scott showed him the illustrations of the spaceship, and he finally put the pieces together.
"Holy shit, this is for Alien," he recalled thinking. "It was incredible. Awesome. What an experience."
McBride's enthusiasm showed throughout the panel discussion, as did Waterston's. Contrary to some internet rumors, her character Daniels is not related to Ripley, Sigourney Weaver's from the original Alien saga — but Waterston is dedicated to bringing a powerful presence to the screen.
"I really obsessed with my run, and I still think I kinda look like a Fraggle," said Waterston. "But I try. I fucking try."