This Incredible Cel-Shaded Tesla is Straight Out of 'Borderlands'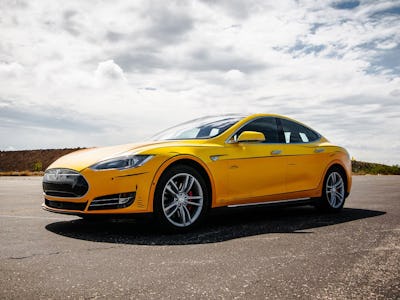 Twitter/ @burnie
Burnie Burns, the founder of Rooster Teeth, wanted to set his Tesla Model S P90D apart from the crowd. And while big-ass chrome rims or a sick spoiler might look cool, they could adversely affect a car's performance — but turning the entire thing into a cel-shaded two-dimensional video game model wouldn't slow it down at all. The team at Graphics Guys, a design shop in Austin, Texas, used a combination of matte and gloss vinyl, as well as separately printed accent line decals to create the illusion of a car that lies flat on the page.
The result is indeed unique. It looks like something out of the aggressive inline skating and graffiti game Jet Set Radio for Dreamcast (or Borderlands, if you want a cooler and more timely reference). For the founder of the company behind the web series Red vs. Blue, having an IRL video game car is literally a dream come true.
So why did he do it? Burns says he wanted to show people what he was talking about when he said he wanted a cel-shaded car. He likens the difficult conceptual process to the time when he was trying to pitch Red vs. Blue, a show with a bizarre concept that has now gained broad acceptance and acclaim.
"Before I made the show, I was trying to explain to people what I wanted to do, and it just didn't make any sense at all," Burns says in the Rooster Teeth video. "So I actually made the first episode of Red vs. Blue because I wanted to show all the people I was working with what I was talking about." The process with his Tesla was very similar.
"Once you see it, it makes sense."
You can watch the video here: