'Borderlands' Video Game to Become Lionsgate Film Franchise
Like 'Mad Max' but without the auteur.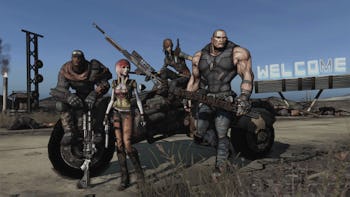 Take-Two Interactive
The post-apocalyptic, open-world RPG shooter video game Borderlands is getting the big-budget movie treatment. Now in development by Lionsgate and Spider-Man producers Avi and Ari Arad, the wildly successful 2009 video game is the studio's next hope for a major franchise. The director and script doctor have yet to be announced.
Like a Looney Toons cartoon crossed with Mad Max Fury Road, Take-Two Interactive's Borderlands is set on the frontier world of Pandora — different one — colonized by oblivious mega-corporations unaware of dangerous alien wildlife the subsequently abandoned. What's left? Lower and criminal classes fending for themselves in a barren wasteland.
Borderlands was released in 2009 with a direct sequel, Borderlands 2, in 2012. It has also spawned a smaller-sized series of games entitled Tales from the Borderlands, which have been released in installments since 2014.
"The Borderlands games don't pull any punches, and we'll make the movie with the same in-your-face attitude that has made the series a blockbuster mega-franchise," Lionsgate Co-Chairs Rob Friedman and Patrick Wachsberger said in a statement.
Tentpoles rule Hollywood, and with The Hunger Games finishing up this year and 2017's Power Rangers looking uncertain, (that film was moved to January, a dead zone for big-budget movies) now is as good a time as any for Lionsgate to go hunting for the next big thing. The question here is just whether or not the series can distance itself from Mad Max without also distancing itself from quality.