Here's What You Should Watch This Weekend
A list of 5 of the funniest comedy specials available on Netflix.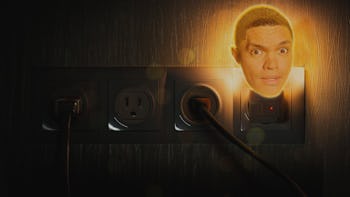 Netflix
If you're in the mood for a good laugh this weekend, look no further than these 5 comedy specials currently available to stream on Netflix.
Netflix is releasing a new comedy special every week, but not all of these are new. In this list, you'll find solid comedy anecdotes that will have you reliving them for days to come, one-liners to quote back and forth with your friends, and gut-busting jokes that will totally take you by surprise.
Let John Mulaney tell you the hilarious story of Mr. Finch, allow the future Lando Calrissian to entertain you in surprising ways, and watch the host of The Daily Show talk about the stark differences between Africa and the United States. Trevor Noah will be happy to enlighten you about how hard it is to get hit by a cab, as well as how easy life is when you follow a white man around New York City.
Here's a list of some of the best comedy specials on Netflix:
5. John Mulaney: The Comeback Kid
John Mulaney once met Bill Clinton back before he was president, and it's probably one of the greatest anecdotes to ever grace a comedy special. But before that, he dives into the intricacies of real estate agents, his father shushing a child during The Lion King on Broadway, and ducks.
4. Ali Wong: Baby Cobra
Ali Wong is very pregnant and very, very open about that fact in Baby Cobra. She touches on such important subjects as sex, feminism, and Whole Foods pre-sliced mango.
3. Donald Glover: Weirdo
Before he was cast as a young Lando Calrissian, Donald Glover was making a name for himself on Community and as a stand-up comedian and rapper. Weirdo is his 2011 special that discusses pooping in fake toilets, the internet's obsession with him being "the first black Spider-Man," and Destiny's Child.
2. Amy Schumer: The Leather Special
Every comedian needs a leather special, according to Amy Schumer. The now-famed comedian and actor touches on her recent success, gun rights, and male birth control in The Leather Special.
1. Trevor Noah: Afraid of the Dark
In his first comedy special since taking over as host of The Daily Show, Trevor Noah discusses his experiences in New York City, binge-drinking with Scottish people, and how "don't be a pussy" is the least insulting insult.